Wheels for the World in Elburgon, Kenya 2023: Blog 3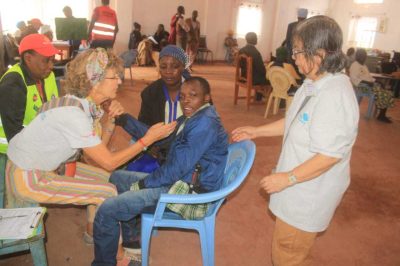 Shaun Burrows, our International Missions Manager, is taking on the role of blogger on our Wheels for the World trip to Elburgon, Kenya to distribute wheelchairs to disabled people. This Christian mission is taking place with our local partner in Elburgon, Pastor Davis from Hope of Glory Church. Shaun will be sending back reports when he can -- here's his third report.
Days 5, 6 and 7: 20th–22nd August 2023
Dancing before the Lord
Sunday morning was bright and sunny, as were all the previous days. I felt very much at home watching the large bald Ibis birds pecking for food on the large grass patch opposite the Distribution Centre. The Ibis, common throughout Africa, is commonly known further south as the Ha-de-da because of their loud cries. As we entered the church building the people were already praising God with fervour and expectation. It was wonderful to see four young Maasai men dancing before the Lord. It wasn't long before everyone had joined in, including the UK team, all of whom are well into our 60's.
We were delighted to see a few disabled people join the service, some for the first time we were told. They got there using the mobility aid that they had just received at the Distribution. Four hours later we walked back to the hotel for a two-hour rest. In the evening we enjoyed supper with Ps Davis and his family and neighbours.
Meeting complex needs
It wasn't long before Monday morning arrived, and we were back at the Centre. Many were already sitting on plastic chairs in the early morning sun. The waiting room was being set up and those outside entered and sat down.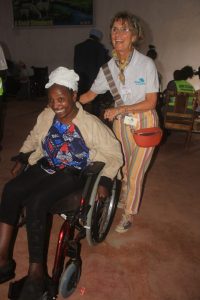 We were able to assist several people with complex needs of Cerebral Palsy and Spina Bifida disabilities, including stroke victims. But it never ceases to amaze me the number of people who arrive at our Wheels for the World Distributions who are amputees because of motor vehicle collisions.
Reaching disabled people on the fringes of society
Our partner for this region of Kenya is Bishop Dr Davis Gatua. He is a professor at the University of Nairobi, but affectionately known to us as Ps Davis. He is also our Regional Network Coordinator for our Roofbreaker programme. God has given him a heart to reach and touch the lives of those who find themselves at the fringes of society due to disability. One of our team today referred to Ps Davis as the most tender-hearted person he knows. God has also given Ps Davis the gift of encouragement to those who are the most influential in society. Today he and I were invited to eat lunch in the home of the member of parliament of the local constituency. This lady has the same heart for disabled people as Ps Davis. During lunch she told us that when we return for our planned Roofbreaker event next year she will take us to Nairobi to meet with the president, so that we can encourage him to give more of his attention to the disabled people of his country.
Tomorrow will be our last Wheels for the World Distribution Day. We only have 17 wheelchairs left out of the 129 that arrived in the container. The team are a bit anxious that some disabled people having travelled long distances to get a wheelchair might have to be turned away because there may not be any left. Thursday will be our team day out, an early morning game drive in the Nakuru Game Park, and then lunch with Ps Davis and his family.