Why get involved?
We believe God has called us on a mission – based on the 'Through the Roof' Bible account in Luke chapter 5. It's all about disability barriers being broken down so that lives can be transformed through Jesus. We invite you to join us in this mission. Everyone has a part to play – meaning that more lives can be transformed!
Hear from some of the people already involved…
There's a wide range of ways to get involved with Through the Roof, giving huge opportunities to be part of God's work in and through the lives of disabled people.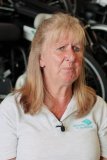 Kathy volunteers on our 'Wheels for the World' mission trips, using her skills as a physiotherapist. She has been on various trips to Kenya, to Uganda, Tanzania and Ghana.
Kathy says: "I always learn more than I give when I go on these trips. I always learn more about love, compassion, resilience and faith in God" (Kathy was interviewed on Songs of Praise, July 2021)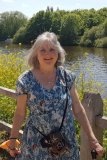 Karen uses her talents by making and selling greetings cards – raising funds to support the work of Through the Roof... and raising awareness too!
Karen says: "I love finding ways to inspire others to support Through the Roof prayerfully and financially using the gifts God has given me."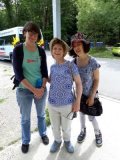 Emma volunteers on Through the Roof holidays – accessible Christian holidays for disabled people across the UK.
Emma says that volunteering on the holidays "is really just about spending time with people and enjoying their company. I think it also helps us to experience what it means to be part of the family of God and every year I have felt blessed to have taken part."
Steve volunteers at the Through the Roof warehouse in Aldershot where mobility equipment is refurbished before being shipped out to developing countries.
Steve says: "I basically look at wheelchairs, fix them, clean them, repair them and put them back together again – all ready for a shipment for whichever country they're going to. So it's fantastic, a fantastic group of people and we get on really well."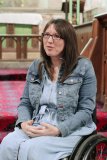 Lynda is a Roofbreaker 'Network Co-ordinator' linking together 'Roofbreakers' who are disability champions in their own churches.
Lynda says she loves the: "wonderful peer support and hopefully inspiring people to go out and make change and to welcome people into church."