Brief History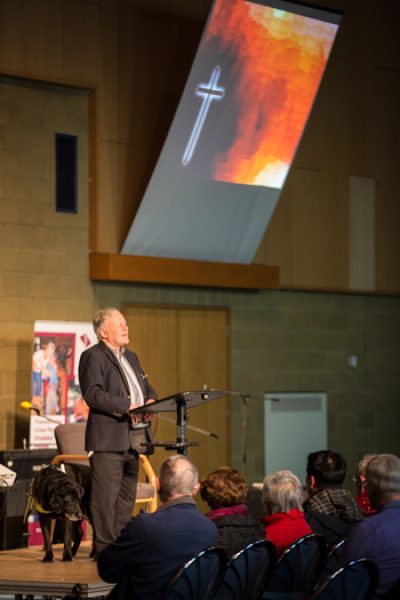 Getting Started
In the 1980s and 90s, Joni Eareckson Tada, the gifted American writer and speaker, started to give disability high profile amongst churches worldwide through her remarkable biography and popular speaking tours.
In the autumn of 1994 Joni's organisation, Joni & Friends, held a major European church conference in Hungary, attended by a UK contingent of 28 delegates. Amongst them was speaker Paul Dicken who lectured on 'The Accessible Gospel', and magazine publisher Colin Reeves, who organised Joni's British speaking tours.
The idea emerged and was pursued at several follow-up meetings, including the regular Evangelical Alliance Disability Forum, that a new UK branch of Joni & Friends could be effective – it would promote to British churches awareness of disability and the full inclusion of disabled people in Christian ministry. Unlike existing specialist groups, it would cover all forms of disability.
In 1995 Colin went with Joni to Ghana on an early Wheels for the World mission, bringing back the concept for possible UK teams.
Then, in October 1996 Paul asked the USA board of Joni and Friends to endorse a new UK work affiliated to Joni and Friends. Clearly an association with Joni Eareckson Tada would aid a fledgeling ministry. They agreed, asked Colin to form and chair a board, and gave seed funding of $15,000 to start the ministry.
It began in February 1997 in Paul's front room with 300 names and addresses of JAF supporters passed on from the JAF European office. We wrote to them all and they became our core supporter group.
Later that year Joni spoke at packed UK meetings including Salisbury Cathedral and Westminster Chapel, attracting many new supporters. One most exciting service took place at Whitewell Metropolitan Tabernacle in Belfast when over 1,000 disabled people attended.
The pastor prayed at the beginning of the meeting, drawing an analogy from the great banquet account in Luke 14. 'Go out quickly into the streets and alleys of the town and bring in the poor, the crippled, the blind and the lame….' Now, over 100 disabled people come to the church each Sunday as part of their thriving disability activities.
With the Disability Discrimination Act, which affected churches, coming on stream, demand for TTR skills and materials grew - we played a key part in launching the Churches for All campaign, and published simple guidelines for church personnel. Then, in 1999, the trustees of both TTR and the 40-yr-old Disabled Christians Fellowship saw the sense of merging the two organisations – both brought differing skills and assets to the table, and both were blessed!
By God's grace, Through the Roof today continues its core ministries while readily adapting to new opportunities and partnerships, echoing Christ's call to… 'Go out to the roads and country lanes and make them come in, so that my house will be full'.