Frequently asked questions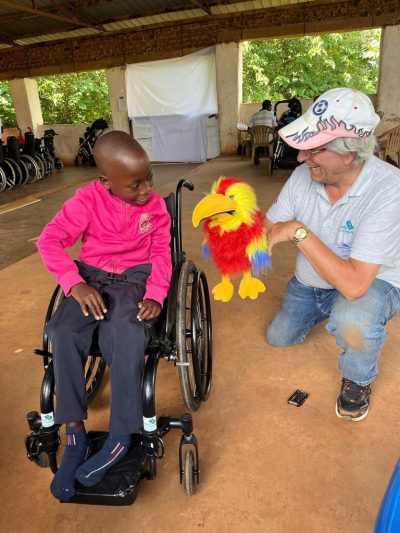 Please click or tap on the small play triangle by the title to open the answers to each of these questions. This is a trial use of this set-up, so please let us know if you experience any problems reading this page.
Why should I get involved with Through the Roof?

We believe that the mission God has given Through the Roof is absolutely vital and that everyone can play a part.
Did you know...

90 – 95% of disabled people worldwide never get to hear the gospel in their lifetime
In the UK, 67% of the population feel 'uncomfortable' talking with disabled people

Help us to make sure disabled people can hear the gospel, be included in Christian life and be able to share their own gifts and talents.
"You are the body of Christ. Each one of you is a part of it." (1 Cor. 12:27, NIrV®)

Join us in making a difference! Whether it's volunteering in the UK, going on international trips, sponsoring a wheelchair, joining us in prayer, or any of the other opportunities available… you can be part of the mission too.
Who can get involved?

If you feel you would like to be part of the mission of Through the Roof, we would love to help you find the role that will suit you. With such a wide range of opportunities available… there's something for everyone!

Due to the nature of our mission, we particularly aim to ensure that disabled people are able to get involved and to use their gifts in serving God.
Whatever your own personal situation, please get in touch for a conversation about what would suit you best.
What could I do?

Have a look through the different opportunities that are outlined – in the UK, internationally, and the various other ways to get involved. But bear in mind that there are other possibilities too. We are always open to new ideas and ways in which people can use their gifts as part of the mission of Through the Roof.
What skills do I need?

Some specific roles require specific skills. For example, physiotherapists and occupational therapists are needed for our Wheels for the World international mission trips, along with people with technical and pastoral skills. Other roles, such as being a Roofbreaker in your church, do not require specific skills or expertise – support and resources will be provided to equip you in the role.
Can I get involved from home, or at my local church?

Yes! There are many ways you could get involved in your own home or local church.

From home – we have several roles that you can get involved in without even leaving the house. Getting involved with online pastoral or prayer groups, helping with projects through social media, subtitling videos, or home-based fundraising opportunities… to name just a few!
Get in touch to find out more, or to make your own suggestions too.

In your own church – why not become a 'Roofbreaker' (disability champion) in your own church or ministry – it's an opportunity to make a real difference to making sure there aren't barriers for disabled people coming to Jesus. Lots of resources are available, and support from a Regional Co-ordinator and Roofbreaker Networks too.

Or you could be a 'church link' to enable your church to partner in Through the Roof's mission – keeping the church up to date with relevant news or arranging a Through the Roof speaker, etc.
What support would I receive?

We believe that everyone involved in the mission of Through the Roof should be well supported and feel valued. You will be put in contact with the appropriate person/team according to the area of work you become involved with. This will include making sure you have the relevant information, support and training for the role you are involved in.

Everyone involved in TTR is invited to join for prayer (via Zoom) on the first Monday of each month, where the different areas of the work are committed to God, and prayer points can be raised.
Could I get involved with Through the Roof as part of a gap-year?

Yes, Through the Roof has opportunities that could fit in with your gap-year experience. If you are organising a gap-year, we could provide opportunities to join international missions trips, be part of accessible holidays or retreats, or generally gain skills relating to the work of the charity. Get in touch to have a conversation about how we could tailor the experience to suit what you are hoping for.
If you would like to find out more about any of these opportunities, contact Janet Eardley on janet@throughtheroof.org or ring 01372 749955.
What's the first step?
Have a look through the information about:
o Other ways of getting involved
Then fill in your details below, including brief details of your interest, and we'll put you in touch with the appropriate person. Or ring the Through the Roof office on 01372 749955.