Wheels for the World in Elburgon, Kenya 2023: Blog 1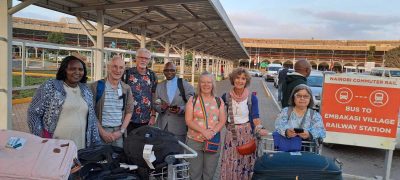 Shaun Burrows, our International Missions Manager, is taking on the role of blogger on our Wheels for the World trip to Kenya, to distribute wheelchairs to disabled people in Elburgon. This Christian mission is taking place with our local partner in Elburgon, Pastor Davis from Hope of Glory Church. Shaun will be sending back reports when time allows -- here's his first report.
Days 1 and 2: 16th–17th August 2023
The journey to Elburgon
Our Wheels for the World Elburgon team landed in Nairobi, Kenya, yesterday morning just as it was getting light. Our small team comprising Andy, Helen, Mishy, Ai Lian and Shaun met Pastor Davis and his wife Ruth from Hope of Glory Church, just as the sun began to rise early Wednesday morning. It felt good to be back in Africa (I am originally from South Africa) with its dusty roadsides and diesel fumes.
We stopped several times on our four-hour journey to Elburgon to watch Zebra grazing on the road-sides. We sat amongst troops of baboons waiting for scraps of food to be thrown from cars, and happy people going about their daily business. On two of the stops, we had a home-cooked meal served by friends and family of Ps. Davis and Ruth. We arrived at our destination as the sun was setting. The team was thoroughly exhausted after close-on 30 hours of travel, so we retired early.
Preparing for the Distribution Days
We spent the next morning at the Centre sorting out the mobility devices after a thorough orientation by Ps. Davis. This was followed by mutton stew cooked by a few ladies of the church fellowship, overseen by Ruth. I must say that after having hosted many Wheels for the World Distributions over the past fifteen or more years, Ps. Davis has the Distribution process down to a fine art and has involved many volunteers in his community.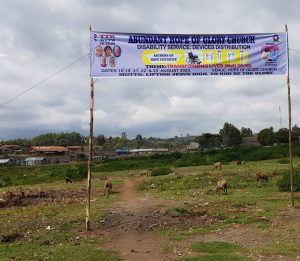 Together our two teams of qualified therapists will work side by side to ensure that a service of excellence is given to disabled people in Elburgon and the surrounding areas, as they are fitted professionally, each with a mobility aid that is most appropriate for their physical disability.
A visit in the mountains
Elburgon is about 6000ft above sea level and, although only 60km from the equator, it can be quite chilly. This afternoon we drove a further 1000ft higher towards the mountainous regions to visit a young lad called Emmanual. He was born with macrocephaly who lives with his grandmother. I won't say too much in this blog about Emmanual, as I will reserve his story for our publications. But what I will say is that it's a story of God's hand of provision and healing, amidst the love and care of all those around him.
As we wake early tomorrow for the first Wheels for the World Distribution Day, we have an expectation of God's presence and provision amongst times of fellowship, sharing, giving and receiving.
Follow this link to see the next post in this blog series.