Wheels for the World in Elburgon, Kenya 2023: Blog 2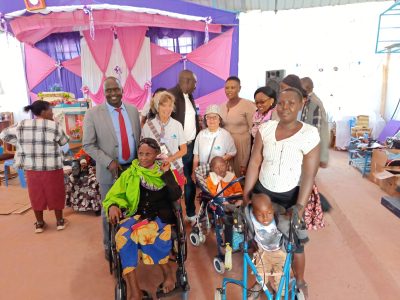 Shaun Burrows, our International Missions Manager, is taking on the role of blogger on our Wheels for the World trip to Elburgon, Kenya to distribute wheelchairs to disabled people. This Christian mission is taking place with our local partner in Elburgon, Pastor Davis from Hope of Glory Church. Shaun will be sending back reports regularly -- here's his second report.
Days 3, 4 and 5: 18th–20th August 2023
An eventful Friday
Two Wheels for the World teams, one of Kenya volunteers, and the other UK volunteers, merged on Friday morning at 08h00. After committing the day to the Lord, we integrated with the many families who had arrived at the Distribution Centre with their disabled loved ones to receive the gift of a mobility aid appropriate to their disability. Chaos gradually began to give a semblance of order, until …
Around 10am we had visitors! The Majority Leader of the Nakuru County Assembly and the County Executive Committee Member in charge of Social Services arrived with a large entourage. It was the first of a series of visits by a local county and Kenyan parliamentary officials, some from various government departments in Nairobi. Each group engaged in a tour of the Centre, followed by formal speeches. The last group left in the mid-afternoon. Although these kinds of visits come with huge distraction and disruption to the Distribution process, they are vital to build necessary relationships. Government support helps ensure a fully inclusive ministry towards, and with disabled people through all levels of society.
Stories from Esther, and Debra and Ezra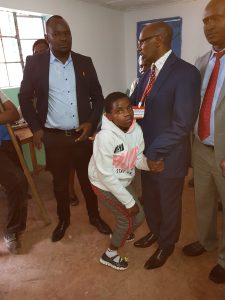 One of the government officials watched a young disabled 16-year-old lady by the name of Esther arriving to receive a mobility aid, carried on her mother's back. After Esther shared her story, the government official was so touched that he awarded her a full educational scholarship! We also met two other young children, Debra (8) and her brother Ezra (4), both of whom have been unable to walk from birth. They are all very happy that their new wheelchairs will enable all of them to attend church meetings together. A tired, but content Through the Roof team walked slowly back to the hotel about an hour after the sun had set.
The weekend – back to normality!
Saturday, although quieter, was a far more productive and steady Wheels for the World Distribution Day, without much interruption. Kenyan and UK therapists worked alongside each other, two per workstation, ensuring that everyone received an appropriate device and these were all fitted professionally.
On Sunday we attend the meeting at Hope of Glory Church, our partner organisation, led by Pastor Davis. Expect much vibrant praise and worship, with dancing and singing in the presence of the Lord.
Reflection on official government visits
In 2 Timothy 4:21 Paul writes to Timothy and asks him to do his utmost to come to see him before winter. I detected a similar desperation in the members of the Kenyan parliament and county officials who visited on Friday. It was a desperation not for themselves, but for those who are the most vulnerable in their communities - particularly those who are physically disabled. Their hope is that disabled peoples' lives will be transformed by a simple device called a wheelchair. Many asked when Wheels for the World intends returning with another container of mobility aids and wheelchairs.