Disability Inclusion in my Church/Ministry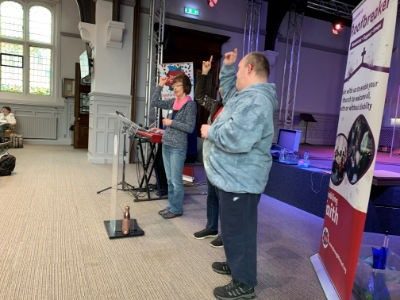 Jesus reached out to people on the margins of society - people who were disabled and excluded. The Roofbreaker project aims to equip churches and ministries to do the same, and to be able to fully include disabled people.
Have a Roofbreaker (or team) in your church – find out more here
Our biggest recommendation to churches and ministries is to have an allocated person (Roofbreaker) or team, to listen to disabled people to see what their challenges are to fully taking part in your activities. Often the challenges will be things you haven't thought of and may need relatively small changes to enable full inclusion. Our Toolkit will help you to think through each area of church life and give ideas to enable inclusion.
The key is to give a positive message of welcome to disabled people and to LISTEN and then respond to the issues raised.
For churches/ministries with Roofbreakers, Through the Roof provides the Church Disability Toolkit and the 'Removing Barriers' church audit free of charge, along with free disability awareness training. Follow this link for more on the Toolkit, church audit and training.
We also help you to show disabled people in your community that you are positive about disability inclusion through providing our online map, and we offer a logo for your website.