Disability Diaries - Part 1: Sarah Snuffs Out Exclusion in her Church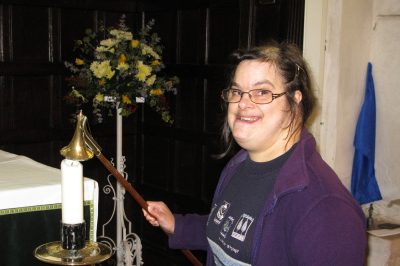 Sarah has Down's Syndrome and severe hearing loss. Sarah's church recognised her talents and enabled her to find roles reading from the Bible in services, but also as Chief Candle Snuffer!
Feeling left out of activities
Sarah Best says, "I have Down's Syndrome and severe hearing loss… as I do things slowly people don't always know how to talk to me, or don't know it's ok to wait for me to reply before asking another question, so I overload and can't reply. I felt excluded because everyone had a job, and I didn't even though I wanted to help."
What made a difference for Sarah?
"Angie and Carolyn, our Churchwardens, asked me if there was anything I would like to do, as they wanted to include me. I am now the 'chief snuffer': I snuff out the candles after the service. Sometimes I also read the bible lesson, which I like to do. I am also part of the washing up team, we have a lot of fun while doing jobs."
"I am happy because I am helping and I feel part of a team."
Sarah's mum Lesley says, "Sarah enjoys being part of the life of the church. She is welcomed with enthusiasm by the church members, others have taken Angie and Carolyn's lead and are very supportive. Sarah always has a big smile on her face when she is included."
Luke 5 Award for disability inclusion
Sarah and Lesley decided to nominate Angie and Carolyn for our Luke 5 award because "we want to say thank you publicly and also to be able to display the award so others will know we value the time and effort that is put into giving Sarah the opportunities she has been given and for future opportunities."
Follow this link to find out more about the Luke 5 Award celebrating Christian disability inclusion.