Let's celebrate! It's Through the Roof's 25th anniversary

Thousands of people across the world have experienced God's love because of Through the Roof's ministry in the past 25 years. Strengthened local churches in the UK and developing countries have welcomed disabled people to be part of God's family. Our international mission trips and virtual support have brought freedom, providing appropriate mobility equipment for over 600 disabled people a year. Our accessible Christian holidays, retreats, and groups have provided fellowship for hundreds of guests and members. Thank you for your support in changing so many lives.
In the autumn of 2022 we celebrated the privilege of being involved in God's work and His goodness and faithfulness towards us through three amazing events.
18 Sept 2022 Disability Awareness Sunday
8 Oct 2022 Thanksgiving service
19 Nov 2022 Online global gathering
As part of the celebrations, we'd like to encourage you all to celebrate a Disability Awareness Sunday in your own church. Lots of churches will be aiming for Sunday 18th September, but if you've got other commitments, any other day is fine! Follow this link to find out more about holding a Disability Awareness Sunday in your church.
---
We held a free online global gathering on Saturday 19th November - celebrating and sharing the work with friends and partners from around the world over Zoom. Follow this link to watch Highway 35 authors' Chris and Denise Arthey's inspiring talk from this event.
---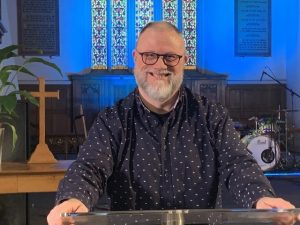 We held a special 25th anniversary celebration in Ashtead on Saturday 8th October. It was a great time, giving thanks and acknowledging all that God has done through the charity over 25 years and re-dedicating the work to God. Revd. Neil Robinson, a profoundly Deaf Chaplain to the Deaf Community and friend of TTR from the Diocese of Salisbury brought a message of hope and encouragement and shared his own testimony. You can read all about the event by following this link.
(Picture shows Revd Neil Robinson standing in front of some stained glass in a church).