Through the Roof celebrates 25 years of God transforming lives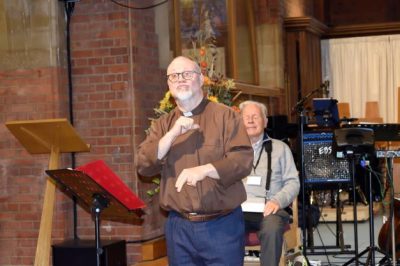 We looked back over 25 years of disability inclusion work at a Thanksgiving event to close 2022, with worship led by Graham Kendrick and an address in British Sign Language by Revd Neil Robinson. Neil reflected on breaking down barriers to disability inclusion quoting Romans 8: 'If God is for us, who can be against us?'
Barriers to God's calling as an ordained minister were a reality for Neil Robinson who is profoundly Deaf. On this 25th anniversary, Neil shared his message of hope that "God can use us regardless" of our hesitation and doubts. Neil explained with wit and humility how God had called him to ministry three times before he finally accepted that call. The barriers on that journey included negative attitudes Neil experienced from the hearing community. But these no longer hold Neil back. He has been determined to reach the heights of God's vison for him, including doing a tandem sky dive in May 2019! Neil has just jumped into a new project, producing a Deaf Awareness Video for churches—available on Through the Roof's YouTube channel, along with a video of Neil's story of his calling.
Neil's talk, and the verse from Romans 8:31, was a great encouragement for the next 25 years of Through the Roof. The message was shared with over 100 friends and supporters who met together at the anniversary Thanksgiving service in October at St George's, Ashtead, to give thanks for God's faithfulness. Graham Kendrick, singer/song-writer, led the opening worship with his classic 'Meekness & Majesty', and ended the opening set with 'From Heaven you Came', prompting us to praise and worship 'the Servant King', Jesus: the model for TTR's work and witness.
Thousands of people across the world have experienced God's love because of Through the Roof's ministry in the past 25 years. The different aspects of this work are highlighted in a new 25th anniversary video on YouTube (shown above, as well as linked here) - along with other videos available on the channel.
International mission trips and wheelchair distributions have brought freedom, providing appropriate mobility equipment for over 600 disabled people a year. Lazarus, a young boy in the 25th anniversary video who was supported on a TTR mission trip said "I'm proud of this wheelchair; it has helped me so much" as it had enabled him to get to school to study to become a lawyer.
Accessible Christian holidays, retreats, and groups from Through the Roof provide fellowship in the UK for hundreds of disabled people who may usually miss out on spiritual and social activities. Sadly, many people can become isolated, with a 2021 survey showing that disabled people are 4 times more likely to feel lonely (Community life survey, England, 2021).
The Roofbreaker project supports churches through volunteer disability champions or 'Roofbreakers' (named after the story of the paralysed man in Luke 5). Roofbreakers support disabled people to live and serve in God's family, and can access free training and resources to enable this. Ashleigh, a wheelchair-user and TTR supporter, says in the 25th anniversary video: "Through the Roof is so important because it makes a way for churches to be more inclusive. It's so important to use the gifts that God has given you, as you."
Through the Roof encourages everyone to support disability inclusion in their church by watching and sharing the 25th anniversary video and Deaf awareness video. Find us at @TTRChangesLives on social media or contact us to sign up for free resources, a newsletter and weekly prayer email.