Mixed Blessings in Bidi Bidi: The Summer 2023 Vital Link Newsletter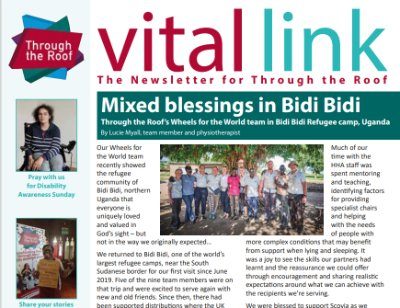 Welcome to the Summer 2023 edition of the Vital Link newsletter.
Download your copy to:
Read all about our Wheels for the World work in Uganda and India
Find out the fantastic Sensory Processing and Church Accessibility talk
Hear about 2023's Disability Awareness Sunday plans
Learn about volunteering opportunities, our new Regional Co-ordinators and much more...
Please contact us on 01372 749955 or email info@throughtheroof.org to get a copy in any other format
Or read it onscreen here with the Joomag viewer...
News Release: Celebrate God's Gifts on Disability Awareness Sunday 2023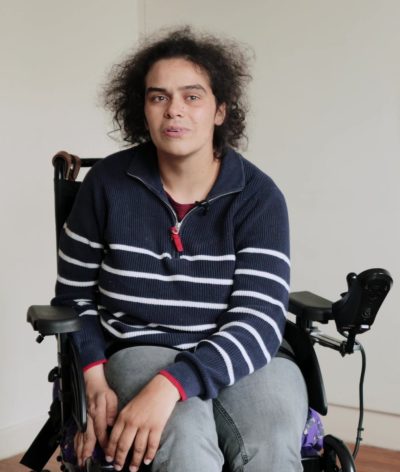 Through the Roof is offering free resources for Disability Awareness Sunday on the 17th September 2023 (or a day of your choice). All churches are invited to celebrate the unique gifts God gives to each one of us – including disabled people. Follow this link to request a free resource pack:
https://throughtheroof.org/forchurches/disability-awareness-sunday/
In the UK approximately 20% of the population has a disability (Family Resources Survey, 2021). Yet our churches do not always reflect that percentage – especially not in leadership and other roles serving in the church. We are all 'fearfully and wonderfully made' by God and we are 'all parts of the body of Christ'.
Is your church or Christian community including disabled people in its ministry?
– by enabling the God-given gifts and talents of disabled people to be shared with others.
You can use Disability Awareness Sunday as a positive message to disabled people.
We invite each church congregation to celebrate disabled people and to use the free resources we have produced to hold a 2023 Disability Awareness Sunday service or event.
There are two sets of free Disability Awareness Sunday resources available:
1. For your first event: we recommend using the full resource pack from 2022, on the Luke 5 account of the paralysed man going through the roof, with suggestions for a complete service and 8 videos.
2. For a further event: use the new 2023 resource on 'The unique gifts God gives us', with a service outline and a short video of Ashleigh: a Roofbreaker disability champion who overcomes barriers.
Ashleigh is a fantastic example of a disabled person using her gifts to serve in the church, as she helps lead the Edinburgh Roofbreaker Network. In the new video, Ashleigh shares her inspirational message that "it's so important to use the gifts God has given you as you – not as the person you think you need to be."
Katie Mobbs, Through the Roof's Roofbreaker Team Leader, who is a wheelchair user, says "A church without disabled people is an incomplete church. We need disabled people – especially in leadership – because they know what is needed to make the path clear for more disabled people; there is also a lot that can be gained by the whole church."
Join us in raising awareness by holding a Disability Awareness Sunday service or event this year, recognising and valuing the gifts and talents God gives to disabled people.
Access the free resources here, including free Disability Awareness postcards to order for your event.