Wheelsblog – Uganda, Yumbe 2023: Blog 5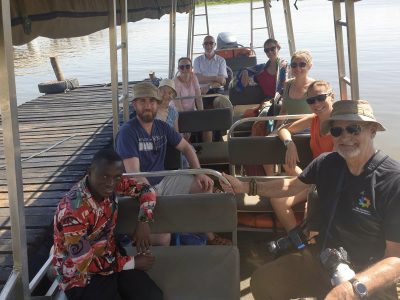 We've got a fantastic Wheels for the World team in Yumbe, Uganda for the next ten days. The team are reporting back with regular blogs. Here's the third report. Please continue to pray for the team in their ongoing work. Thank you for your support.
Yumbe Blog 5 (Days eleven to thirteen) May 12–14th 2023
After meeting the HHA team for a brief debrief we loaded the minibus and headed for our R&R day at the Murchison Falls National Park. We were excited when at last we left the bumpy unmade dusty road as we had bounced up and down in the back of the minibus whilst our amazing driver negotiated puddles, potholes, road works, broken tarmac with cars, lorries or heavily laden bicycles and motor bikes often approaching in narrow spaces or blind corners.
We stopped for lunch in Aura and sampled 'real' Ugandan food as opposed to the English food that every hotel offers. In the refugee camp we had offal and intestines with maize meal for lunch which some of us found quite challenging so the chance to try other dishes was appealing. The menu was varied and included fish dishes using talipia, (fried, dried, filleted, stewed), poshko, (maize meal), muchombo (grilled goat), matoke (mashed plantain), greens and chapati. Delicious until you realise you have another 3 hours siting in the minibus.
As we approached our destination – Red Chilli Rest Camp – at sunset, we were excited to see our first game animals which gave us a taste of what was to come. Impala, water buck, giraffe in the distance, small monkeys, baboons, warthog and Cape buffalo welcomed us to our destination. Red Chilli Rest Camp lived up to its name as the team chilled after an exhausting but very rewarding week. It is situated out in the bush above the Albert Nile, with hippo visiting at night by our rooms to feed before slipping back into the shallow river the snooze during the day.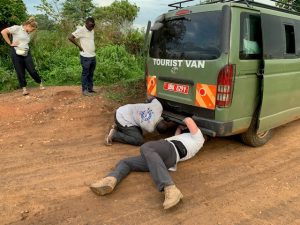 As our minibus had a flat battery we walked to the river jetty and boarded our small boat for a 3-hour safari up the River Nile to Murchison Falls and back with very informative Rangers. John, our photographer, was in his element as we saw an array of wildlife which included plentiful hippo, crocodiles – one of whom slithered into the water with a big splash – colobus monkeys, antelopes, water buck, warthog and a wide variety of birds. Since his camera has mega telephoto lens the smallest details were captured as lasting memories.
After a refreshing drink we proceeded to the top of Murchison Falls but were held up at the check point as we had to pay extra fees to get to the Falls. We are not sure why it took 45 minutes in 32C for such a transaction! However, it was worth the wait as suddenly we saw spectacular views of water, from the world's longest river, pounding through a 7-metre gap sending a cooling spay over everyone whilst dropping 43 metres at 300 cubic metres per second. For once we were all quiet as we were mesmerised by the sheer scale and grandeur of the world's most powerful waterfall.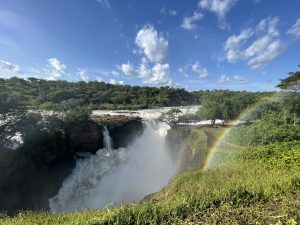 Living life to the full before spending 6 hours in our minibus going back to the airport, we rose at 0530 to join a convoy of tourists watching the sun rise over the African bush. Our driver told us that we were extremely blessed to see so many animals as sometimes he has driven people for two days without seeing such variety. We saw a herd of giraffes cross the road in front of us, a family of elephants – mum leading her two babies and dad following behind, lions resting in the trees and Cape buffalo snoozing in a mud pool. After such a challenging but fruitful time at BidiBidi it was a wonderful end to our adventure. In our final devotions we reflected on the many challenges the people we have been serving face daily and how their Christian faith is vibrant and real.
Enos will be spending the next four days travelling back to Zanzibar whilst we will all be back in the U.K. in 12 hours. It has been a wonderful gift to all of us to serve and be served by His people in this place. "He raises the poor from the dust and the needy from the ash heap to make them sit with princes and inherit a seat of honour". 1 Samuel 2.8.