Wheelsblog – Uganda, Yumbe 2023: Blog 1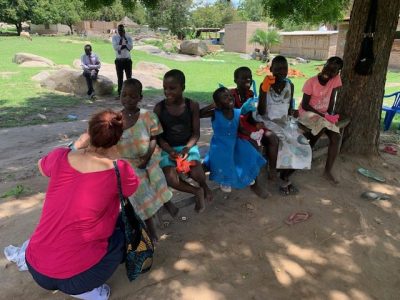 We've got a fantastic Wheels for the World team in Yumbe, Uganda for the next ten days. Jill, one of the team members, is reporting back with regular blogs. Here's the first report, looking at the trip and the days of set up. Please continue to pray for and support the team, as they wait for the wheelchair container to arrive, and begin their preparations.
Yumbe Blog 1 (Days one to three) May 2–4th 2023
The long 3 day journey is finally over and our team is complete with Enos joining us from Zanzibar. Our hotel in Yumbe was a welcome destination after two days travelling from Entebbe in a minibus, initially over fast tarmac but latterly experiencing the bumps and potholes of unmade roads. As the scenery changed from city to smaller towns and eventually mud hut villages scattered amongst vast landscapes of open country, we were being immersed in the sounds and sights of Ugandan life. So many contrasts from life at home; women carrying huge bowls of fruit on their heads, young children pumping water into large plastic bottles, boys cycling with piles of sticks on the back of their bikes and men chatting in groups under trees. David, our pastor, has met people who told him "we love the whites that you come here to help us", and another said that attitudes towards disability are shifting by the work that is being done. Praise God, but there is still much to do and we are a small link into a very long chain.
Today we were delayed at the ferry crossing for two hours so we soaked up the atmosphere of the local community and 'got into the zone'! The riverside scenery was stunning, with great clumps of reeds and rushes being swept along the river showing that the current was quite strong, whilst cows, goats and the occasional baboon crossed our path. Ladies are frying fish over an open fire and cooking mandizi (deep fried scone) so we decided to have some for lunch. As the sun was hot we found shade under a tree where children were playing. Almost immediately a young girl of 8 came out from nowhere with some plastic chairs – a totally spontaneous 'from the heart' gesture – which we acknowledged by giving them some puppets. Soon fingers were placed in the arms and suddenly these knitted items came with life with smiles all round as Lucie and David encouraged play activities and story telling.
Soon we were back into the minibus with the most challenging road conditions ahead of us. Thankfully it did not rain, unlike yesterday when the storm was so severe the windscreen wipers were blown off, so the luggage on the roof was dry and the road was hard but very dusty. We are meeting our Hope Health Action Partners tomorrow to make alternative plans as our container has not arrived at the Bidibidi Refugee Camp yet. Please continue to pray that God will help us to enrich the lives of those clients awaiting a mobility aid.
Follow this link to the second blog post