Wheels in Kerala, India 2023 – Blog 6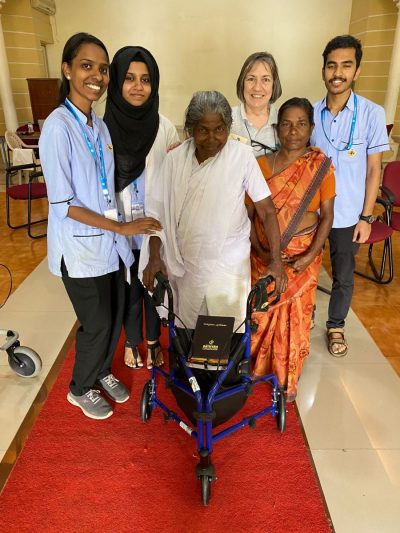 Kerala Mission Daily Diary – Day 6 (21st March 2023 to end)
The Wheels for the World team are hard at work in Kerala, India until the 25th March, changing lives through the free gift of a wheelchair or other mobility aid. Here, Peter, a member of the team, tells us about the final few days of the trip...
As our mission in India came to an end we thanked God again for our incredible experiences, invaluable learnings and rich blessings that will stay with us always.
Our memories will indeed live on - of so many amazing, differently abled people whose stories were, simultaneously, both heartbreaking and uplifting. And each, without exception, was a life lesson in courage, resilience, boundless love and the devotion of families.
Over six unforgettable days there were so many highlights but we felt that perhaps our experience with the children of the 'Little Servants of Divine Providence' home for the disabled would remain one of the most memorable.
Among the more than one hundred children and a few adults being lovingly cared for by nuns and helpers were eight children in need of wheelchairs who our therapists carefully assessed to receive chairs of varying descriptions.
When we first arrived at the home these children, all with significant disabilities, were all lying down down on their beds most of the day, including at meal times. With such a lack of stimulation each appeared to have 'shut down' emotionally - sadly retreating into a tiny world of their own.
A mere few hours later, our therapists and technicians had finished preparing their chairs, and expertly 'fitting' the children into them. As each adjusted to the sense of being upright, of being truly aware of who and what was around them, the transformation in each child was as dramatic as it was so moving and gratifying.
These moments were the source of many tears of joy among the team because it was as if 'light' had replaced 'darkness', their personalities slowly emerging and then shining brightly and their beaming smiles were infectious.
And we could not have hoped for a better way to complete our time at the children's home, or indeed our broader mission, than to hear the wonderfully insightful, and completely unexpected, words spoken by one of the children to Sister Melini at that time. The child said "These days we have been sitting. Tomorrow onwards we are moving."
And, finally, beyond all of the unforgettable experiences, we offered our ninety eight patients pastoral support, prayers and scriptures suited to their circumstances and needs.
We felt God's hand in the constant stream of acceptances by so many - including lifelong Hindu followers - and we were delighted to gift to them a total of 35 traditional Bibles and 46 of the wonderful new Audio Bibles so generously donated to us and which proved so popular.
A mission to India truly blessed in every way.
Restoration and Roofbreakers in Rwanda: The Spring 2023 Vital Link newsletter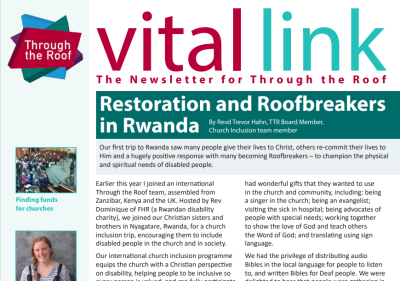 Welcome to the Spring 2023 edition of the Vital Link newsletter.
Download your copy to:
Read all about our church inclusion trip to Rwanda
Find out about upcoming online events
Hear about 2023's Disability Awareness Sunday plans
Learn about upcoming international mission trips, holidays, volunteering opportunities, and much more.
Please contact us on 01372 749955 (or email info@throughtheroof.org) to get a copy in any other format.
Or read it onscreen here with the Joomag viewer...
Wheels in Kerala, India 2023 – Blog 5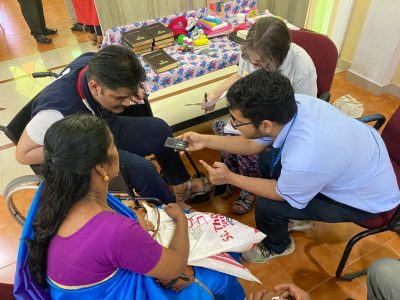 Kerala Mission Daily Diary – Day 5 (20th March 2023)
The Wheels for the World team are hard at work in Kerala, India until the 25th March, changing lives through the free gift of a wheelchair or other mobility aid. Here, Peter, a member of the team, tells us about the 5th day of the trip...
After our lovely day of worship and lunch with some delightful local people at Dr C V's church it was time to return to the heart of our mission, serving the disabled of Kerala in God's name.
It was, inevitably, another day of emotions running high as we worked to assess and help resolve to the best of our ability the needs of our patients who on this day ranged in age from two and a half years to an amazing lady of 98 years old !! And we also saw three others well into their 80's.
Our therapists and technicians, as always, had to strive to design the best mobility aid for each patients circumstances. For example we saw Anamma, who had chronic kidney disease, Chandran who was partially paralysed, Ivan who had congenital heart disease, several amputees like Prasad, and so many others seeking our help to live their best lives.
Our audio Bibles again proved extremely popular and our pastoral care person, Susan, spent many hours sharing scriptures, praying and speaking Jesus into the hearts of many. And what a treat awaited us all as evening came around.
Dr C V had invited Archbishop Thomas to join us at this home for dinner and a more engaging, personable and down to earth person one could never wish to meet. The food, cooked by the doctor's wife, Mary, was again delicious and around the table we discussed a wide range of topics – some that could be considered challenging in their nature….what potential there was, for example, for a woman to become an Archbishop.
It was such a tribute to his character that, without fail, he responded very openly, patiently and indeed comprehensively. He was indeed made in God's image.
Again, what a day and what memories for each of us to treasure, always.
Wheels in Kerala, India 2023 – Blog 4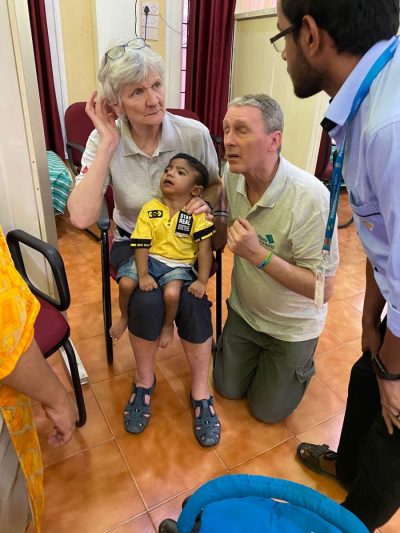 Kerala Mission Daily Blog – 19th March 2023
The Wheels for the World team are hard at work in Kerala, India until the 25th March, changing lives through the free gift of a wheelchair or other mobility aid. Here, Peter, a member of the team, tells us about the 4th day of the trip...
It was Sunday and we were feeling gratified about our achievements the previous day and refreshed at breakfast time as we recounted some of our highlights.
It was time then for us to attend Dr C V's church – and what a wonderfully reflective and joyful time it turned out to be!
We were so warmly welcomed by all the pastors and congregation alike as we gathered outside and before long we were honoured with front row seats and both Through the Roof and each of us individually were introduced, welcomed again and thanked enthusiastically for our mission and all that it represented.
Naturally the majority of the service was in Hindi but the passion, the fervour, the love of God that was evident throughout was not lost on us. And the singing! It was from the heart, it filled the hall…it was a delightful surprise. Those of Welsh heritage (like this writer) who are renowned for their voices and love of singing would have loved it! We joined in as best we could and it more than made up for the language differences.
We all participated in the breaking of the bread and later our pastoral care person, Susan, gave an excellent devotion which was very skillfully translated by Dr C V. Our team leader, Martyn, who delivered an interesting and indeed inspiring talk, again translated by DR C V, drawing on stories from the Bible and his own life experiences, both before and after his acceptance of Jesus as his saviour.
And what a lunch the church had prepared for us – another time when we felt so honoured and appreciated. Once again we had many requests for photos to be taken with members of the congregation and the children who were clearly fascinated by our appearance being so different to what they were accustomed to locally.
After the service and lunch we were able to enjoy some personal time in the afternoon before meeting up in the evening for a delightful dinner infused with those unmistakeable and aromatic Indian spices.
Praise the Lord for another wonderfully memorable day.
Wheels in Kerala, India 2023 – Blog 2 & 3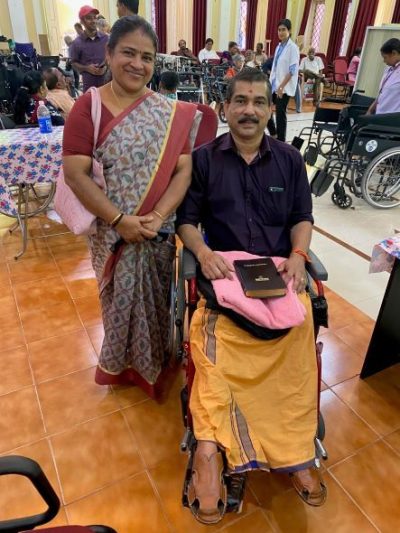 Day 2 – 17th March 2023
The Wheels for the World team are hard at work in Kerala, India until the 25th March, changing lives through the free gift of a wheelchair or other mobility aid. Here, Peter, a member of the team, tells us about the 2nd and 3rd days of the trip...
After our first day of meet, greet and eat….
It was with a touch of enthusiasm and pride that, after breakfast, we took the later arrivers from the day before to see the carefully sorted and positioned wheelchairs, the other mobility aids, tools etc. and the patient treatment areas.
Then it was time for a tour around the rest of the hospital which, everyone agreed, was far bigger that any of us had imagined, and meet more of the delightful and clearly very hard working staff. We of course attracted a lot of curious attention along the way – it is probably not often that a group of westerners like us are seen in a rural region like Kerala.
From there DR C V and his staff took us to the central office of his Sathyam Ministries, an imposing and impressive building with a huge collection of Christian books and other items that they sell to raise funds for their work.
We were so warmly welcomed by the staff and thoroughly enjoyed their fellowship, songs, devotions and prayers for the success of our mission. Before long though we were on our way to one of the ministries many activities – The Satayam Disability Centre, also named Justins House after Dr C V's disabled son who accompanied us almost everywhere we went throughout the trip.
It was an extremely moving and emotional experience for us all, greeting the mostly young residents, having them play music, sing and dance for us and they joined in enthusiastically when Martyn taught them and then led us all in a sign language song.
After spending time with them, including in their classroom, we said our goodbyes and were treated to a most wonderful meal at Dr C V's home cooked by his devoted wife, Mary. His home is impressive in many ways, not the least of which was the HUGE collection of old Bibles and other Christian books that were on several shelves high, floor to ceiling, along the entire width at the front of the large house. There would definitely be older ones we think but one we found was dated January 1869.
Yet there was still more to come because it had been arranged for us to visit a nearby local charity, Bodhana which, after a presentation by it's leader, was a remarkable small organisation that, through several initiatives, were supporting over 10,000 poor people every year. Their activities included providing housing, funding children's education and partnering with around 1,000 bee-keepers to produce their own honey to help raise funds – a truly wonderful micro business.
As we journeyed back to our hotel for our evening meal and reflected on our experiences, the feeling and consensus among the group can be summarised as simply "What a Day!"
Day 3 – 18th March 2023
Our first day of distribution at Pushpagiri Hospital was, understandably, somewhat daunting but, for the team, also brim full of anticipation and hope for the help we were well equipped to provide local disabled people.
Indeed it turned out to be a day high in emotions – as every day we spent here was destined to be – with some patients circumstances heartbreaking, others so uplifting because we knew in our hearts that these peoples' lives, and that of their families, were being changed for the better.
We served people who were deformed from birth, others whose lives had been affected by strokes, several children and their loving families living severely compromised lives due to cerebral palsy. There were also others with varying degrees of paraplegia caused by tragic accidents and a woman who had been stabbed in a random attack and whose spinal cord had been damaged….and more. High in emotion indeed.
What was equally emotional though was the extent of the gratitude and appreciation expressed by both the individuals we served and their families. As our therapists worked to provide the best possible equipment for each patients need and circumstances they engaged both the patient and their families in constant conversation. Without exception, we could see spirits rise at the prospect of often significant improvement in mobility and independence for both patient and family members wherever that was achievable.
The warmth and gratitude we experienced was the perfect antidote for our weariness as the day turned into evening and it must be said that our many successes would not have been possible without the outstanding support of the excellent hospital doctors, medical staff and trainees / interns who were by our side all day as interpreters as well as sharing thoughts and ideas to help achieve the best solution each time.
Importantly we were also given all the sustenance one needs in the hot and humid conditions of India with an abundance of refreshments, regular snacks and a delicious lunch.
Another most memorable day and, after a hearty dinner and the teams debrief of the day we all happily retreated to our rooms and the sleep we all needed ready to do it all again the next day.
Wheels in Kerala, India 2023 – Blog 1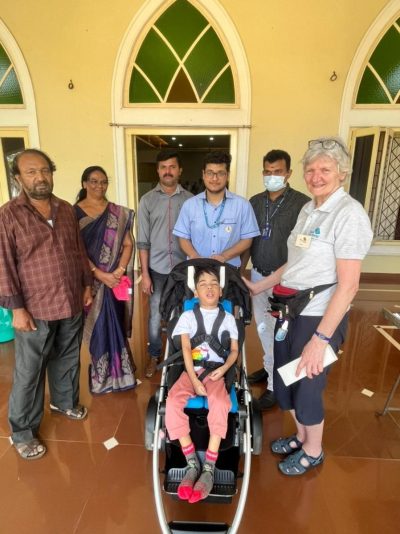 Daily Blog: Day 1 – 16th March 2023
The Wheels for the World team are hard at work in Kerala, India until the 25th March, changing lives through the free gift of a wheelchair or other mobility aid. Here, Peter, a member of the team, tells us about the first few days of the trip...
With our hearts and minds brimming with anticipation as well as, it must be said, a degree of apprehension, the first of two groups of team members arrived and joined up at Cochin Airport in Kerala, India to undertake our mission to provide wheelchairs and a range of other mobility aids to disabled children and adults. The group of members were to arrive later that day.
It was the first time being in India for most of us and we were greeted in true Indian style by a somewhat unfamiliar level of heat and humidity and we were happy to be seated soon after in the vehicle that would take us to our destination.
It was a three hour journey to that part of Kerala and, with significant traffic for quite some time, it seemed much longer as we drifted in and out of awareness after our long flights. Some of the rural countryside and small villages were interesting but we were probably not in the frame of mind at that moment to appreciate them.
We were very grateful to be warmly greeted at our hotel by Dr C V, who headed up our partner for the mission, Sathyam Ministries and we were soon seated for a great lunch accompanied by some of his colleagues.
Dr C V had arranged for us to visit nearby Pushpagiri Hospital which was to serve as our distribution centre for the mission and where our wheelchairs etc. had all been stored in readiness.
Despite our fatigue we all remarked that, seeing all our chairs and other aids laid out like that was so uplifting and immediately helped bring our mission to life. So we eagerly set about re-arranging and sorting everything by type and size for great for greater efficiency once our task began.
We also set up all our tools and accessories that our technicians need and were delighted to find that the hospital staff had already set up the patient areas with beds, partitions, etc.
A little later our team was complete when the other group arrived at our hotel and we all enjoyed a great evening meal with Dr C V and several key people from the hospital who we had already realised were going to be critical to our success.
Yes, we were weary and ready to sleep by this time but even this quite limited time together held such promise of what was to come.