Wheels in Kerala, India 2023 – Blog 1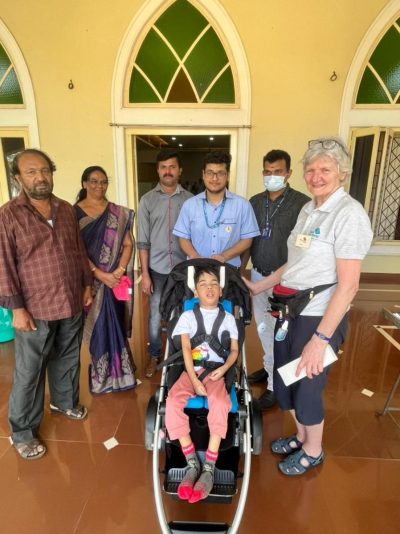 Daily Blog: Day 1 – 16th March 2023
The Wheels for the World team are hard at work in Kerala, India until the 25th March, changing lives through the free gift of a wheelchair or other mobility aid. Here, Peter, a member of the team, tells us about the first few days of the trip...
With our hearts and minds brimming with anticipation as well as, it must be said, a degree of apprehension, the first of two groups of team members arrived and joined up at Cochin Airport in Kerala, India to undertake our mission to provide wheelchairs and a range of other mobility aids to disabled children and adults. The group of members were to arrive later that day.
It was the first time being in India for most of us and we were greeted in true Indian style by a somewhat unfamiliar level of heat and humidity and we were happy to be seated soon after in the vehicle that would take us to our destination.
It was a three hour journey to that part of Kerala and, with significant traffic for quite some time, it seemed much longer as we drifted in and out of awareness after our long flights. Some of the rural countryside and small villages were interesting but we were probably not in the frame of mind at that moment to appreciate them.
We were very grateful to be warmly greeted at our hotel by Dr C V, who headed up our partner for the mission, Sathyam Ministries and we were soon seated for a great lunch accompanied by some of his colleagues.
Dr C V had arranged for us to visit nearby Pushpagiri Hospital which was to serve as our distribution centre for the mission and where our wheelchairs etc. had all been stored in readiness.
Despite our fatigue we all remarked that, seeing all our chairs and other aids laid out like that was so uplifting and immediately helped bring our mission to life. So we eagerly set about re-arranging and sorting everything by type and size for great for greater efficiency once our task began.
We also set up all our tools and accessories that our technicians need and were delighted to find that the hospital staff had already set up the patient areas with beds, partitions, etc.
A little later our team was complete when the other group arrived at our hotel and we all enjoyed a great evening meal with Dr C V and several key people from the hospital who we had already realised were going to be critical to our success.
Yes, we were weary and ready to sleep by this time but even this quite limited time together held such promise of what was to come.