Churches Inclusion in Rwanda -- blog three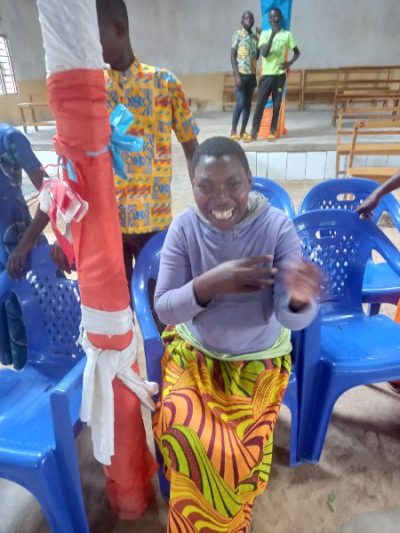 Saturday 21st January
Today we did not meet in the deaf school but the local church 'The Reformed Baptist Convention Church'. There were over 100 in attendance.
Pastor Alexi talked about being 'trustworthy in the work of God.' He talked about being faithful, that you cannot be a Christian without being faithful. You can hold a Bible, go to church be in the choir, even speak in tongues but that does not mean you are faithful. You need to be faithful even when you are alone. Ananias and Sapphira in the early church were not faithful, they sold some land and lied about the proceeds and they died. Being faithful maintains life. If you are faithful God's power will help you. Being faithful will give you a good reputation, like Joseph serving Pharoah. Being faithful can change your future.
Pastor Davis then spoke on the link between poverty and disability. That there will always be poor people in the land and that we are to be openhanded towards the poor. Pastor Davis quoted Proverbs 22:4 'Humility and fear of the Lord being wealth honour and life. We need resources to eat and drink and everything else and these are obtained through humility and a fear of the Lord not through witchcraft or stealing. If you want to be honoured, humble yourself. God will not ask you to give something which God has not already given us. God blessed Abraham so he could be a blessing to others. When we humble ourselves and help those with disabilities and needs, God will raise us up. If you want God to do something for you be humble, be active, serve God. The congregation renewed their covenant to 'do justly, love mercy and walk humbly with God.'
Enos spoke briefly on being renewed not just in words but in action.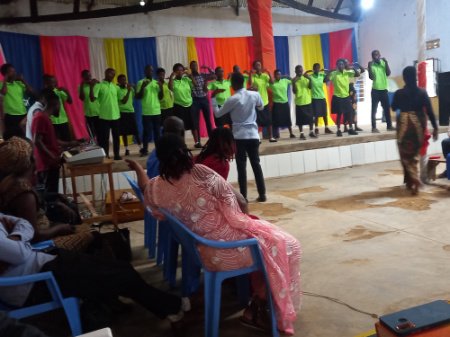 As we left we had a lovely time of spontaneous dancing with Josiane Jean Damour who were clearly having a great time. I have included a couple of photos.
In the afternoon we had a crusade outside the church. Many people attended and we had a wonderful time of praise and worship. A number of choirs sang for us and a deaf choir singing, using sign language was a tremendous blessing. It was such a privilege to be part of congregation that clearly loved the Lord, were full of joy and were so committed to including people especially all the children and those with special needs. Pastor Trevor preached on Luke 14 about everyone being invited to the Heavenly Banquet of the King and the need to put God first in our lives and 3 people gave their lives to Christ for the first time and a number of others came forward to renew their commitment to God.
Another wonderful day of blessings and much fruit for the Kingdom of God. Praise God.