Day 8 - Wheels for the World in Jinja, Uganda 2022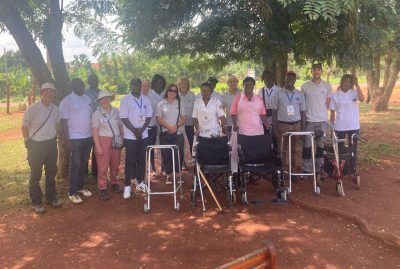 Thank you for all your prayer support over the last week for the Wheels for the World Jinja team -- it's been an amazing week, with over 200 consultations, and 113 wheelchairs fitted. Here's Rob's report from Day 8, the home visits day.
Day 8:
Today was a bit of a different day, visiting 3 health centres and 3 recipients at home.
The home visits were lovely to do but quite moving to see and hear about the desperate social situation of many.
The first lady had previously had a stroke and was just laid in a dark room for 2 years before her wheelchair. When we arrived she was sat outside watching the village children play! Her brother does not have to carry her to hospital appointments anymore. He also spoke of how his personal view of disability had been changed by seeing the distribution and others there with disabilities and hearing the talk on inclusion.
Seeing two sons with severe disabilities who had received chairs was quite moving for the whole team. They lived on a small yard at the back of a factory in an industrial area in two small sheds with their other brothers and parents. The boys were sat out in their chairs which was good. But hearing their dad tell of the hardships caused Pastor Joseph to step away to compose himself with emotion. He commended the man for loving his family so well. The father said how grateful he was for the chairs, and how many had come to take photos of his children's condition and made promises but none had come through for him until now. He said how he had become a Christian and how the joy of the Lord gives him strength.
The day ended with a team debrief and lovely shared meal with the local team.
Much to be thankful for!
Some stats from the whole distribution:
Over 200 consultations.
113 wheelchairs fitted.
67 people received crutches.
12 zimmer frames.
9 walking sticks.
6 wheeled waking frames.
6 advice only.
6 transit chairs for local hospitals.
The team fly back to the UK tomorrow. I am travelling onward to Moyo to the refugee camps for some project support with Hope Health Action.