Day 6 - Wheels for the World in Jinja, Uganda 2022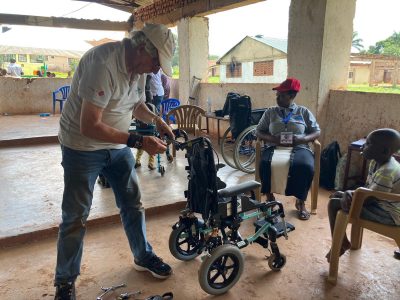 We've got an amazing Wheels for the World team hard at work in Jinja, Uganda until the 18th June -- they'll be distributing and fitting wheelchairs to local disabled people with the partnership of our friends at RILD. Here's Rob's update from day 6. We'll post updates as often as data and time allow -- please do pray for the team and recipients over the next week and a bit.
Day 6:
39 people seen. 18 of those needing wheelchairs. Only 15 generic chairs left in stock!
Today was a second very busy day as hoped and expected.
It's been such a daily joy of the team to regularly see recipients overflowing with joy and delight in moving for the first time in their wheelchair.
One lady had not been pre-assessed but came anyway. As our pre-assessed list ended today she was fortunate to get a chair. She couldn't hold back her child-like grin at moving in her chair without crawling on the ground!
Today we had a visit from the local media! Good to give an interview about the work here and promote the inclusion of people with disabilities.
A teaching assistant came today with 3 children from a disability school. They all got wheelchairs as needed and the 4 of them, plus chairs, went home on two motorbikes!
A joyful day, but the challenge begins as we have run out of all but very large chairs. It's like the meat is eaten and just the bones left as the locals may say. Tomorrow will be a challenge as almost all chairs will need padding out and adapting before giving.
Keep praying for energy for the team as we keep up a good working pace into a hard day tomorrow. Thank you all!