Day 5 - Wheels for the World in Jinja, Uganda 2022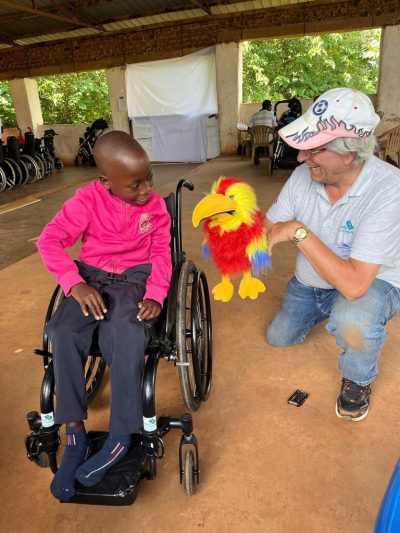 We've got an amazing Wheels for the World team hard at work in Jinja, Uganda until the 18th June -- they'll be distributing and fitting wheelchairs to local disabled people with the partnership of our friends at RILD. Here's Rob's update from day 5. We'll post updates as often as data and time allow -- please do pray for the team and recipients over the next week and a bit.
Day 5:
We hoped and prayed for a busy day today and we got it! 45 people seen, 29 needing wheelchairs and buggies. We had 4 therapy stations running efficiently so we did not feel rushed!
Henry the bird was a big hit with the children today! Along with bubbles and toys, distraction is helpful when your chair is being adjusted and fitted.
Saw some lovely people who were so thankful for the mobility aids.
We had a challenging case of an 18 year old with a 3 year history of blisters, weakness and other endocrine problems. His hospital told him it was nothing physical and others said it was most likely witchcraft. He looked so down and depressed and told us it was witchcraft that caused his immobility. He had not been at school for 3 years.
We recommended he go to a different hospital for tests, and he saw Carol for prayer and some counselling. The team tried to point him to God spiritually and good healthcare physically. Now he has a chair he can go to school and it will be easier to find another hospital.
A lovely rainbow was seen this morning, reminding us of God's promises.