Day 2 - Wheels for the World in Jinja, Uganda 2022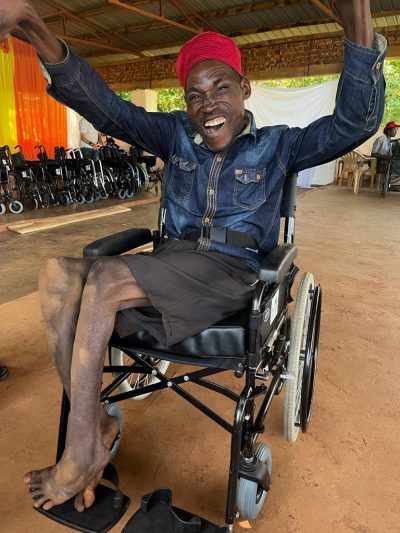 We've got an amazing Wheels for the World team hard at work in Jinja, Uganda until the 18th June -- they'll be distributing and fitting wheelchairs to local disabled people with the partnership of our friends at RILD. Here's Rob's update from day 2. We'll post updates as often as data and time allow -- please do pray for the team and recipients over the next week and a bit.
Day 2:
Around 28 people seen today!
Some lovely episodes of care today by the team.
A young teacher could only afford one crutch after an accident, but the doctor said he needed two. It was worn down by an inch and repaired many times. He was so happy to get two new crutches!
We had a sad case of a young woman who arrived by ambulance! She is currently in hospital after a devastating stroke following a miscarriage. But her family didn't want her to miss a wheelchair. She was unable to move at all. Kathy fitted a tilting chair that means a person can lie flat. Her family were very grateful!
It was a joy to see everyone working so hard.
Thank you all for praying!