Life-Transforming Disability Inclusion -- Two New Luke 5 Awards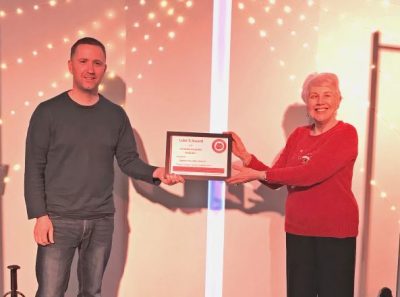 Great stories from our Luke 5 Awards
When disabled people are included in Christian life what a life-transforming difference it makes! We're celebrating two 'Luke 5 Awards' for Christian disability inclusion and hear the stories behind the awards…
Congratulations to Ingatestone Elim Church, one of our first 'Luke 5 Award' recipients. Sheri Cavill is registered blind and attends Ingatestone Elim Church, where she says "Our Pastor and eldership team are fully accepting of disabled people and willing to make adjustments." Sheri says "I receive large print materials, I am encouraged to be myself and help to lead services in a local care home.  I play drums in one of our two worship groups.  I give words of encouragement, dance and our building is fully accessible. Accessible website in progress."
Sheri says that this positive attitude of the church gives her 'the space to be myself', to glorify God and to know too that other disabled brothers and sisters are welcome in the church.
A Luke 5 Award has also been awarded to The Journey Community, a ministry led by Rev Cath Hollywell in Derbyshire. Sarah Johnson made this nomination due to the transformation it has brought to her life.
Sarah says, "I've struggled to find a worship space that didn't try to just make me fit into an ableist world view." However, she says about the Journey Community: "They have accepted me for me (without the 'what's wrong with you' conversation!)"
"The work on Zoom is amazing, even when the group has met and I wasn't able to be physically present they zoomed me in! They have met outside to ensure accessible comfort, meaning I could attend on my scooter. They have encouraged me to be open about some of the struggles of living my disabled life; meaning that I've turned up on-line in PJs and in excruciating pain in bed but been present at morning prayer; something I desperately wanted to attend as it brings me comfort. They have encouraged me to use my gifts, attend training, develop prayer resources; to dare to look at possibilities."
When asked what difference this has made, Sarah says: "I feel alive! Valued for the disabled person I am, in an embracing and encouraging way"
"At last I feel that I am in a space where I can grow as the person God made, in a way that is appropriate to my limitations but not in a way where I'm made to feel less.  I'm so grateful for all Cath and the other community members have done and I honestly believe they deserve this award."
If you have experience of living with disability and would like to recognise how your church/ministry or an individual has enabled inclusion for you, please contact Through the Roof or follow this link to fill in the Luke 5 Award nomination form.