"I Felt Like I Was Excluded from Church Due to My Autism" - A New Luke 5 Award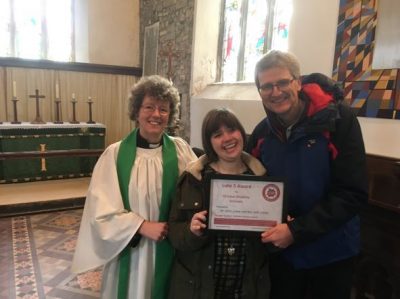 Our most recent Luke 5 Award for Christian Disability Inclusion goes to Rev Julie Lomas and her husband Steve Lomas at St Giles' Church in Kilmington, Devon. They have been nominated for this award by Elana Blackmore who explains how the couple have transformed her experience of inclusion at church.
Previously, Elana said, "I felt like I was excluded from church due to my autism". When she was younger, Elana says "I was looked at and told to shh. I couldn't help it. The pews in Church made me uncomfortable. I struggled to sit still… I struggled with the lighting too. I felt like I wasn't understood. I became a Christian and found out that people with disabilities are often marginalised."
What has changed for Elana? The heart of inclusion of her new vicar, Rev Julie Lomas and her husband Steve. Elana says, "I am truly blessed for what they have done for me to help me feel included in Church." This inclusion has had a real impact on Elana's faith and is the reason that Elana felt this should be recognised by a Luke 5 Award.
In her nomination for the Award, Elana says: "Steve and Julie have incredible hearts; they are putting effort into helping me flourish in my calling as a leader; they are letting me do more in the Church; they see God has called me to help people with additional needs like myself. I feel very blessed because they see past my barrier with autism and help me feel included."
Thank you Julie and Steve for the amazing difference you have made. We hope this will inspire others to have that same heart of inclusion which can be truly life-changing.
Have you experienced Christian disability inclusion? Let's celebrate it through a Luke 5 Award. Follow this link for the nomination form, or contact the TTR office.