'Today God Has Answered My Prayers' -- The Spring 2021 Vital Link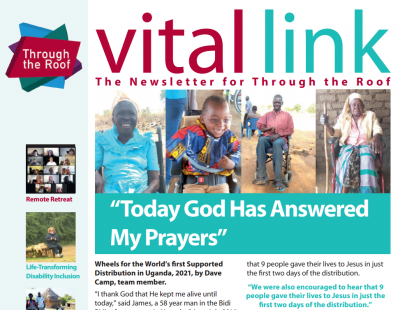 The Spring 2021 Vital Link is now available -- full up with stories from our first supported wheelchair distribution to Uganda, our remote retreat, Luke 5 Inclusion award, and much more.
Follow this link to download the issue as a PDF (2MB File)
The Vital Link is also available in print, CD, in large print, and in Braille. Please contact us if you'd like one of those formats. You can also view the PDF in the JooMag viewer, which offers easy zooming and page scrolling...
Request Instructions To Download The Toolkit and 'Removing Barriers'
Please add your details below, and we'll be in touch with instructions for downloading the Toolkit and 'Removing Barriers church audit.
Book A Church Disability Awareness Workshop
Please fill in this form to begin the process of booking a workshop.
'He Give Songs In The Night' - Online Retreat 26th to 30th April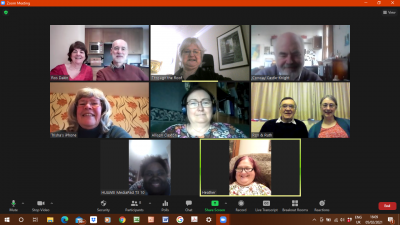 We are excited to announce another online retreat, running daily through the week starting 26th April, and extend a special invitation for you to join us.
We'll be focusing on 'Finding God through Lockdown – He gives songs in the night', and looking at the life and work of 5 disabled hymnwriters to find inspiration in their life stories and the hymns they left us.
Daily from Monday 26th – Friday 30th April 2021 from 2:00 – 4:00 pm
Where: A computer or tablet near you! Participants will meet using Zoom - the link will be sent to you by email ahead of the event, once we have confirmed your booking. Join us for Bible studies, worship, discussions, prayers and activities (craft, games, quiz). Each participant will be sent a goody bag beforehand, containing what is needed to join in.
There will also be opportunities for people to book appointments between sessions for personal prayer over Zoom.
Bookings Deadline: Tuesday 20th April or until all 12 places have been filled (whichever comes sooner). Please contact jan@throughtheroof.org and provide your postal address so that we can send the goody bag to you prior to the retreat starting.
Whilst there is no fixed charge for attending the retreat, we need to cover some of our costs to be able to continue running these retreats. Equally, we don't want cost to be a prohibitive factor, so we would like to suggest a donation instead of a fixed charge. If you are unsure how much that should be, then perhaps you would find a starting point of £15 would work. Whether you want to give more or less, the important thing is to have you join us. We're looking forward to seeing you there!