Week 1: Uganda 2021 - Supported Distribution
Supported Distribution to the Bidi Bid Refugee Camp, N.W. Uganda
Wheels Blog Week 1 (1st and 2nd February 2021)

Through the Roof's first supported distribution of 135 wheelchairs and other walking aids began this week. This was, like all normal distributions, planned carefully with a team of therapists and techies, providing support to a partner organisation--in this case, Hope Health Action, based in the vast refugee camp in the north-west corner of Uganda. The UK team led by Jill Jenkinson, with Lynne Mosher as deputy, had met with HHA staff on a zoom call a couple of weeks ago and for some of us it was good to see our Ugandan partners again after first meeting them on the 2019 trip, but because of Covid-19, this distribution was to be different. We were pleased to hear that several of the team had been on a World Health Organisation wheelchair training programme to develop their skills as they would take the lead in the distribution and call us as and when they needed assistance. They had already carried out assessments on the people who were to be given wheelchairs and aids.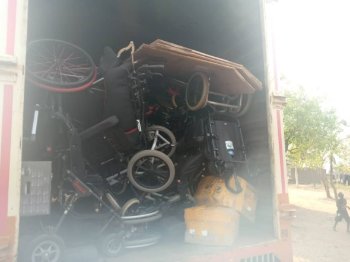 The container of wheelchairs had arrived, been loaded onto a truck and delivered to Bidi Bidi, one of the largest refugee settlements in the world with around 300,000 people in it, and a few days ago some members of each team linked up on a WhatsApp video call and discussed the intricacies of the more complex chairs so that the team would be able to allocate those chairs to certain people that they had already assessed.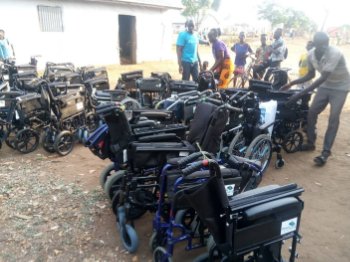 For each session the UK team comprised one or two therapists and a techie from a rota of ten people and each day is split into two three hour sessions starting at 07:00 and 11:00 UK time.
The distribution days are each Monday and Tuesday from 1st February through to the 16th of March. Each day started off with the session team checking in on WhatsApp video with the Ugandan team and a brief period of prayer. The main concern was that the internet connection would hold up so that we could see clearly video of the people or equipment that we were hoping to give advice about and fortunately, it wasn't too bad apart from Tuesdays first session when still photos were sent for comment. So Monday 1 February, before the sun rose in the UK, a WhatsApp call was made to the HHA team and the distribution started.
Whilst nothing like a normal distribution for the UK Team, sitting at home with our cups of tea and looking at the cold weather outside, it was just as intense and rewarding as we saw the HHA team modifying the equipment to suit the needs of the people they were serving and later, hearing messages of thanks from some of the recipients.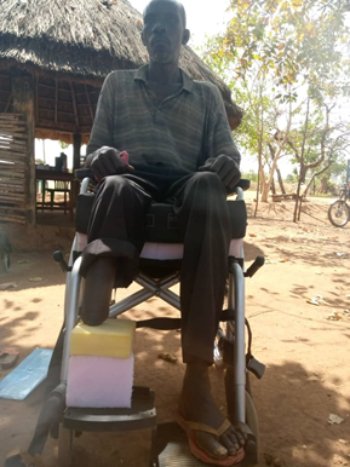 In our previous visit to Bidi Bidi, we were humbled by some of the stories that we heard. This time was no different as we heard about James who is 58 years old. He was married, but his wife divorced him due to his disability and poverty. We were told that God blessed them with 6 children before the divorce.
His disability was caused by robbers in South Sudan who came one night and cut his leg, his head and hands. They left him unconscious and in the morning the government took him to the hospital where his right leg was amputated below the knee. He said he remains without a wife and is struggling with life until today.
He said, "I thank God that He kept me alive till today. Since July 2016 I suffered without a wheelchair until today. But today, God has answered my prayers through you, Hope Health Action and Through the Roof. I was a burden to my children, relatives and neighbours whenever I wanted to travel long distances, like to hospital, church, social gatherings, or visiting. But now I really appreciate your help and support towards my life may God bless you abundantly, continue praying for us in the Camp and also supporting us."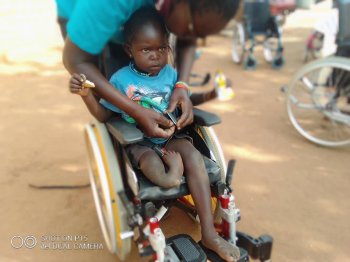 As well as adults we were also asked to advise on seating children. Some, like Blessing pictured here were given wheelchairs, but for others like Brian and Jona the teams decided a buggy would be more appropriate. And we gave advice on how to adjust straps and add cushioning to suit each child.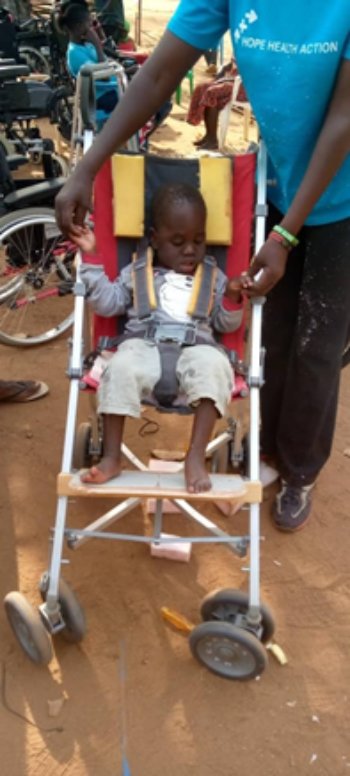 Like on all trips, each person who seen by the HHA team had the opportunity to hear the gospel and we were delighted to hear that a total of 9 people gave their lives to Jesus in those two days and a total 21 wheelchairs plus 16 crutches and walking sticks and a few buggies were issued.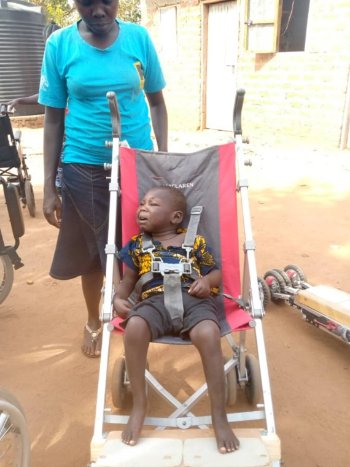 The main thing that came across to the UK team was the ability of the HHA team and we were pleased to hear that the profile of Hope Health Action, as well as Through the Roof, is being raised.
Please continue to pray for the two teams as we try to serve the people in Bidi Bidi. Please pray for the internet connections and the technology, that we will be able to see and hear the people out there 'on the ground' and that they can hear and understand us. Pray also for stamina for the HHA team, working in the heat of the day. And also pray for the people in the camp, who have so little, yet are so grateful for the gift of a wheelchair or walking aid and a Bible.
Thank you.
Dave Camp