Training + Resources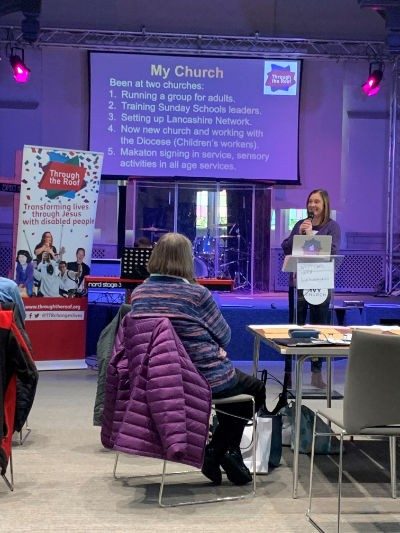 Training
FREE workshop exclusively for Roofbreakers and their churches
(This will be delivered online via Zoom)
See how your church can break down some of the barriers that may prevent disabled people from fully taking part in church life
Learn from Jesus' approach to disabled people
Suitable for all roles within your church – people involved in leading, teaching, online church, children's work, welcoming, audio visuals, property, website, small groups, pastoral work… Everyone!
Updated to include learning from lockdown

Free Deaf Awareness Video
Find out how to welcome deaf people to your church, including communication tactics, ideas to help inclusion and suggestions regarding prayer. The video is presented by Revd Neil Robinson in British Sign Language, with subtitles and voice-over. It's a great resource to share with your church or group. Neil is a Chaplain to the Deaf Community and leads our Deaf Ministry Roofbreaker Network. Follow this link to watch Revd Neil's Deaf Awareness Video, or follow this link to download Rev Neil's Deaf Awareness video to use in a presentation (click on the three dots towards the top of the video page, and select 'download' to download the file. Please be aware that it's a 615MB video file, so it might take a while to download).
Bespoke training workshops
Through the Roof is also able to offer bespoke training workshops tailored to you specific needs. If you are interested, or would like to find out more, please get in touch for a conversation.
Resources for Roofbreakers
Free Church Disability Toolkit - providing downloadable guides for the different roles within a church – including church leaders, audio visual team, welcomers, children's ministry, and much more. You will be given details of how to download these resources free of charge when you join us as a Roofbreaker.
Free 'Removing Barriers' church audit - Through the Roof's self-assessment resource for churches and ministries aiming to ensure that disabled people are fully welcomed and included. You will be given details of how to download this audit free of charge when you join us as a Roofbreaker.
50% discount on Through the Roof publications – including our best-seller 'Be A Roofbreaker' with sections outlining ideas for the different challenges that disabled people might face when accessing your church or ministry.
A downloadable logo – for your church website, to show your church is positive about disability inclusion.
An invitation to appear on our online map - for churches who are positive about disability inclusion.
Support online or in person - in Roofbreaker Networks, meeting with other Roofbreakers; as well as monthly emails, a Facebook group and events.
Advice from one of three Regional Roofbreaker Co-ordinators who cover the nations and regions of the UK, to encourage disability inclusion in all churches.