Churches Inc in Ukraine 2019 -- Day 3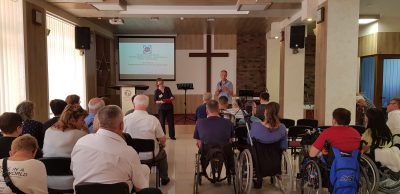 The Through the Roof Churches Inc team are hard at work in Ternopil, Ukraine until the 13th August. Please keep praying for the team, as they bring a message of encouragement and inclusion to the area. We'll bring you updates on their work as often as we can. Thank you for all your support!
Day 3 -- Fri 9th
Today was the second leaders day. We had a range of people attending, many with disabilities. Pastor Volodymyr invited many pastors from the local area to this event. It was disappointing that few pastors came but we trust in the Lord's will in this. Volodymyr felt that the people who were in the room- mainly parents, individuals with disabilities and those already active in disability ministry were really helped and encouraged by what was said. After personal testimonies from the UK and Bible teaching, many questions were asked and personal stories shared.
One lady shared how she fears for her sons future living with a disability. We trust that she may have been encouraged by what she heard today and to seek help from her local church.