What is Wheels for the World?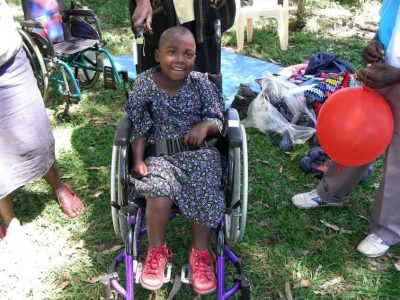 'Today marks my most happiest moment of my life to see my grandmother Susan has acquired a wheelchair through the Wheel for the World initiative', Phillip, from Kirinyaga, Kenya.
Philip's words are a typical response of joy and thankfulness for the hope and freedom that a wheelchair can bring. However, Susan is only 1 of 20 million people that need a wheelchair and can't afford one, as reported by The World Health Organisation.
Our Wheels for the World programme restores and distributes refurbished wheelchairs to disabled people in developing countries who can't afford one. This gives increased independence and demonstrates the love of God in a practical way.
We send old NHS wheelchairs to a workshop in one of our partner prisons for refurbishment. Prisoners find great satisfaction in this work which helps restore their self worth and dignity. The hub of operations is a warehouse unit in Aldershot where unwanted wheelchairs are received and prepared for transporting to the prison, then received back from the prison in their restored state and loaded into containers for shipping.
Then a container of wheelchairs and other mobility aids is sent in advance of the team arrival. A typical distribution usually lasts 8 – 12 days with a team of 6- 10 people staying in basic accommodation.
Our therapists fit all our chairs most carefully to ensure safety and comfort, and all recipients and family members are instructed in the correct use and maintenance of their chair.
Wheels for the World meets the practical needs of the disabled person with a wheelchair and, as we are a Christian charity, we offer recipients a Bible in their own language and local people share the Christian message. Wheelchairs are given according to need regardless of whether the recipient has a faith or not. Team members speak in local churches and community halls, spreading the message of including disabled people and training church leaders.
All of Wheels for the World's work is made possible through the generous support of donors and fundraisers. If you'd like to sponsor a wheelchair, you can download a form by following this link.
An example of how Wheels works using 3 good deeds in 1.
When Peter's father died after a period of increasing frailty, it was a distressing time for the whole family. Peter found that the NHS did not want him to return his father's wheelchair as it was too worn to be reused. Peter donated the wheelchair to Through the Roof, and had the satisfaction of knowing that his donation would make an immense difference to someone on the other side of the world.
Chris got involved in petty crime and drugs as a young teenager, and by the time he left school this had escalated to car crime and aggravated burglary. Desperate to break out of the cycle, he took the opportunity in prison to be trained to repair wheelchairs and gain some useful skills that would help him to find a proper career after his release. Through the Roof sent the wheelchair donated by Peter to the prison workshop, where Chris refurbished it and made it as good as new once again.
Miriam contracted polio as a child which left her with paralysis in her legs. Living in a community where no physiotherapy or rehabilitation services are available, she spent most of her time in bed, shut away from society. Occasionally she would venture out to see the world beyond the walls of her home, but could only move by dragging herself along the ground. A team from TTR arrived in Uganda to distribute wheelchairs. Miriam was given the wheelchair that had been donated by Peter and refurbished by Chris. Now she can help her mother selling produce on their market stall, and can go out independently and make friends.