Wheelsblog: Uganda (25.10.16)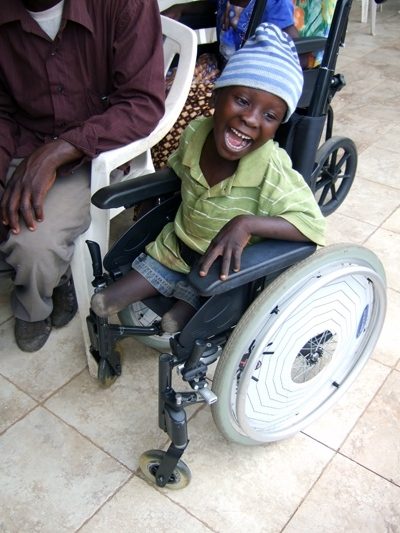 Day 3 started a bit later than anticipated as one of the team had to embrace the African experience of trying to "quickly" purchase a sim card to make contact with his family in Uganda. The rest of us enjoyed seeing the hustle and bustle as the town of Mbale came alive. You wouldn't believe how much can be fitted on a small 125 cc motorbike, including a corrugated iron roof!
As we drive past the fields on the way to the distribution site we have a fleeting insight into the lifestyle of the locals as we see the ladies working hard in the fields with their children not far from sight, the young ones taking care of the babies. It's hard to believe that many of the disabled ladies we have met, too, work in the fields despite not being able to stand or walk, purely getting around on their hands and knees.
With a day's experience behind us we set up quickly and started to see those that had already arrived. It was building up to be a particularly hot day as we scrambled for shade. The techies had also moved to join us on the veranda where they set up their new "workshop" for the day. Their skills were pushed far and wide as they created and adapted without electricity. There was a notable moment where the heat of the sun had been directly falling on, and heating up, a piece of plastic that could then be re-shaped without the use of the heat gun!
Today saw many highs and lows. We saw a total of 53 people of whom 26 were children. Some of the children presented with disabilities that meant they had never had the opportunity to sit up and engage with the world around them. They were either carried or left to lie on the floor. For the majority of the children we were able to modify chairs and buggies to support them in a good sitting position. A set of wheels not only provided them with mobility, the opportunity for independent sitting and the chance to see the world around them but also respite and relief for the mothers who have had to carry them around for the last 6,7,8,9,10+ years many of whom also had younger children/babies they also needed to care for and carry. The smile of one little boy, who had a bilateral amputation, captured the hearts of many!
We were thrilled to be able to provide some of the children with Piedro boots (supportive footwear) to help them as they learn to walk. What a joy to watch one little boy race off with his new shoes and walking frame, leaving his mum behind!
It never ceases to amaze us when 'just the right' chair, strap or gadget is available for someone as if God placed their name on it. We had an adult sized buggy with a chest harness that perfectly suited a tall young man with uncontrolled movements. What a transformation from lying on the floor looking up at everyone to looking ahead at the world around him.
Unfortunately, as the day drew to a close we were unable to provide a set of wheels for a very small, severely disabled child as we had nothing even vaguely suitable left. Sune did a fabulous job of teaching mum some exercise and offering advice, but there was an over-riding sense of dissatisfaction as mum left. With 3 days of distribution still ahead of us we are aware that we may have many disappointed families and heart-breaking moments for us.
We are continually so very grateful for the amazing support, knowledge and skills of the RILD team as they not only translate for us but also give us an insight into the culture and lifestyles of those we encounter.