Wheelsblog: Uganda (24.10.16)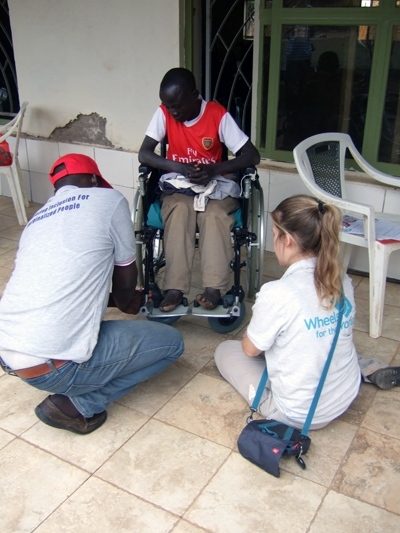 The first day of our distribution started very early, leaving at 8am. After a detour to avoid a stranded lorry (these things happen in Africa) we arrived on site to be greeted by our first clients who were already waiting. However, we still had a little work to do – sorting all the wheelchairs and checking our equipment. Kathy organised everyone who had been registered, the therapists set up their stations, the techies picked up their tools and we were off.
There were several highlights in the day, including a lady who walked off on crutches while carrying a zimmer frame on her head! Also a girl of nine who shouted 'I shall have a bicycle like my friends!' when she saw her wheelchair and was completely delighted with it.
The pastors were kept busy praying and giving out bibles. They talked about the love of God and many responded. Of particular note was a Muslim man who was initially not keen to speak to the pastor but wanted a bible. After talking with the pastor, he said he had been a Christian but his father had insisted he was a Muslim, and he then reconnected with Jesus with great rejoicing. We were very moved.
In total we saw 53 clients today, but as the light was fading fast at 6pm we had to turn four people away. Please pray that the demand and availability of care matches, and that we find loving ways to prioritise people as so many seem to be in real need and some have travelled up to 35km to get to us. Please also pray about the pressure this puts on the team, particularly Hannah the leader. We are also praising God that so many people have heard the good news today and that the local pastors are doing a great job of explaining how God's love has motivated us to come and bless people with chairs.