Wheels in Uganda (Sunday 23.10.16)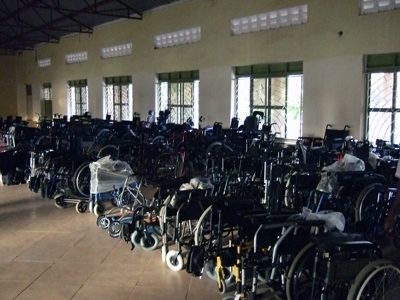 Wheels for the World are hard at work in Uganda from the 21st October to the 2nd November, and they'll be reporting back with blog posts and updates whenever time and internet connections allow. Please follow along with all the stories here, and do pray for the team and everyone they're meeting and serving.
Hello from Uganda! After a long and sleepless flight, we arrived safely in Uganda and enjoyed a pleasant rest in the aptly named Rest Gardens, an Anglican run hotel. The RILD team (Response Initiative to Learning Disability) welcomed us with a meal. Evah, Daniel, Titus and Leonard met Hannah, our much cherished leader (who is currently being dictated to!), Kathy, Ang, Suné, Helen, Martin and Philip, and we feel a warm and productive working relationship will be the order of the day.
After a good night's sleep and a good breakfast, we hit the road and travelled the five hours through the beautiful and fascinating Ugandan towns and countryside. We stopped at a secondary school for a brief loo stop. Unfortunately, Hannah was bitten three times on her hands and since we were using traditional latrines, it was fortunate that it wasn't worse!
The hotel we arrived at had the wow factor, it was the only one with space available, but it is very swish and a lovely answer to prayer! After a quick freshen up and unpacking, we headed out to inspect the distribution facility. This exceeded all our expectations and will be ideal (it may even have sit-on loos!). Almost as important, there is a lovely veranda where the therapists can have their work stations in some shade.
The RILD team unloaded the wheelchairs when the container arrived yesterday (another answer to prayer) and had formed some very impressive ranks of chairs. 130 chairs take up some space! We have walkers, crutches, buggies and a good range of accessories as well. We started sorting the wheelchairs into sizes until poor light stopped play and we returned to our wonderful big bus for the journey back through fire-lit villages back to the hotel.
Before our dinner arrived, we had an esteemed guest, the local MP, the honourable Nagwomu Moses Musamba, had travelled from Kampala today to welcome us and plans to visit us on site tomorrow. As a man of God, he has a vision for the future of this region and was very welcoming to whole team.