Wheels working with RILD in Uganda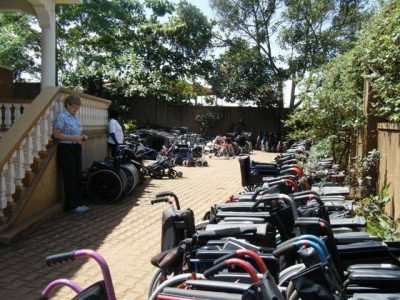 April 2011 saw a small but dedicated Wheels for the World team travel out to Uganda to work with local partners, RILD, on the distribution of mobility aids and Bibles to nearly 200 disabled people.
In addition to seeing people in the grounds of their office, RILD had organized for us to take chairs to the rehabilitation unit for soldiers of the Ugandan army - RILD considered this to be a good contact to help them become known in government circles.   A lorry collected the wheelchairs on the Saturday and on Monday the team set off early for Mubende (not as early as planned due to a puncture!)   A long length of the road was under repair, slowing the team down considerably and resulting in a journey lasting three hours...
Finally arrived, everyone received a warm welcome from the Major in charge but had to wait for his boss before starting introductions and talks.   The proceedings began with prayer, and followed with the distribution of wheelchairs and crutches to the soldiers - many of whom had lost limbs as a result of war.
RILD reported:
It is so fulfilling to impact another person's life in such a positive way.   One elderly disabled person sat outside the tent shade and when approached by a volunteer to be moved to the shade he said "My son, I have been confined indoors for a long time, please let me enjoy the sunshine". His mobility will now be easier with a wheelchair and he will be able to move freely whenever he wishes to go out in the sun.
"Philippa - one of the highlights"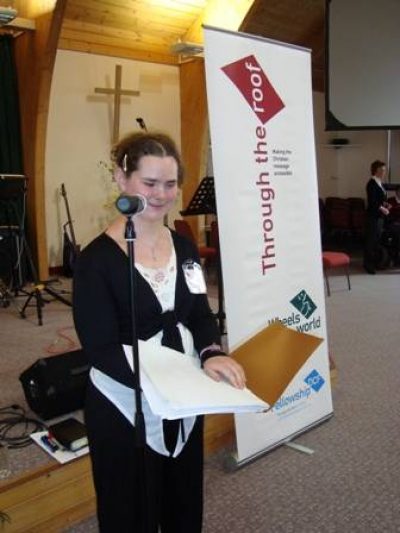 Feedback from supporters who attended our 'Pressing on towards the goal' event in Epsom showed that new TTR staff-member, Philippa, was one of the highlights of the day.  Youth Ambassador, Philippa,  who has been blind from birth shared the journey of her life of disability and faith.
Delegates also welcomed the opportunity to meet with others who volunteer for the different aspects of the charity's work.  Comments from the day included: "it was really uplifting", and "I feel a valued part of the TTR family"
If you missed the Epsom event, why not join us as we meet for the equivalent event on 7th May in Burton-on-Trent.
You will be able to:
Celebrate together the journey so far
Pray and contribute to shared goals for the future
Meet and mingle with other supporters and new staff
A light lunch will be provided and there is no charge for the day but a retiring offering will be available to contribute towards costs.
Book your place by e-mail: Margaret@throughtheroof.org or telephone: 01372 749955
Haiti update - April 2011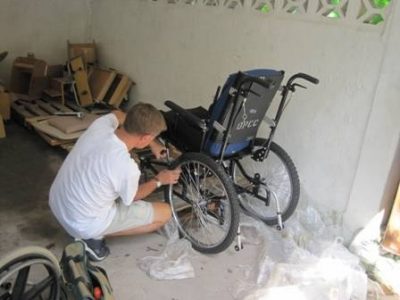 Team members, Derek and Pauline, have just returned from Haiti - here's what Derek had to say:
Our connection back from Les Cayes to Port Au Prince was tight - too tight...!!!  The flight was 20 minutes late leaving Les Cayes so we arrived as the flight to Miami was boarding.  We were met by Charly from MTI (Medical Teams International) but even with his perilously fast driving between terminals we missed our connection.  We could have made it if we just had carry-on but as I had my tools they needed to be checked through.  Message to self... "leave more time between connections!"  We still had plenty of time for our onward connection to Chicago... PLENTY of time.  Flights were all delayed due to weather so we were about 3 hours delayed at Miami.  C'est la vie!
We greatly missed Dr June not being there at Les Cayes and were saddened to hear that she had had to fly at the last minute to New York for tests.  We pray that she is now recovered and is able to resume the tasks that God has set for her.
Marvin and Carmen and the rest of the staff welcomed us and looked after us well.  I have to say I was utterly amazed by the amount of work that has been done at the house.  I knew that the prosthetics & orthotics (P&O) workshop was moving to the house but I never envisioned for one moment the extent of that decision.  The place has been utterly transformed and is a testimony to the commitment that Dr June and MTI have to Les Cayes.  Marvin was able to bring us generally up-to-speed on developments and it sounds as though plans are not stopping at just the house but also with a view to building a Rehab Centre close by.  This really is exciting news and it will be interesting to hear developments as they unfold.
I was able to have a couple of training sessions with Evens, Pierre, Maxene and also at times Seraphim , with 'Corky' especially helpful in translating.  It was good that we were also able to assess two patients at the hospital and then return with wheelchairs for them and set them up.  We also spent some time clearing out the two wheelchair stores down below and separated the larger chairs to one store and the small ones to the other.  I also suggested that all the footrests and leg rests be sorted and matched when there is more room to store them.  At present they are mixed in with the crutches and walkers etc.
With regards to setting up a wheelchair repair centre, we are now at a point where we need to know where it is likely to be situated and who it will serve.  With the loss of the previous Rehab Centre and hospital facilities there does not appear to be a location for setting up the workshop at this stage.  This however may change when the P&O workshop is up and running.  Perhaps room can be made within the area to facilitate wheelchair repairs.
My thoughts were that perhaps the setting up of a mobile, visiting service would then encompass those who would not be able to make the trip to the repair workshop.  I have no idea if this is doable or what shape it would take.
Pauline and I really enjoyed our visit, even though we didn't quite achieve all that we set out to do but we'll continue discussions with Dr June via Skype - and post further updates as we have them.
Spring 2011 Vital Link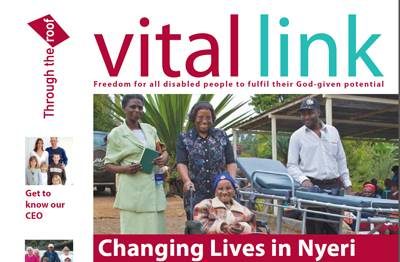 Our Spring 2011 Vital Link is now available to download in PDF format. Download it here, and please let us know if you'd like to be alerted about each new issue by email.