Disability Diaries - Part 2: Bursting the Balloon of Fear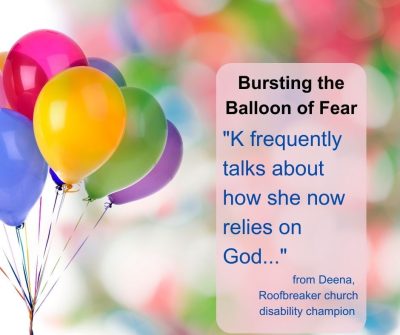 To celebrate Disability Awareness Sunday, we're sharing Disability Diaries – stories of disabled people's lives transformed by church disability inclusion.
Deena meets K
When I became a Roofbreaker disability champion with Through the Roof, our church put up some publicity posters and several disabled people (not previously connected to our church) approached us for support.
Roofbreakers has helped me meet a dear Christian friend of mine, let's call her K. K is a young woman who has a learning disability. She recently started coming to our church and went with us to a weekend Christian festival (NUA). Going to the NUA festival was a new experience and such a big step for K, yet one that God has used to heap more blessings on her and many of our church members.
Bursting the balloon of fear
At the NUA festival, K was healed from her fear of balloons - which often limited her involvement in events. During the festival, there were huge colourful balloons used to decorate the tents where the main meetings took place. I had forgotten of her fear of balloons until she pointed them out to me. I asked her if she wanted to leave, but she said she was okay. When we returned from the weekend, K expressed how pleased she was that this fear no longer existed. She is an amazing young woman, and it is great to see her more fully exercising her gifts (as her confidence grows) of loving and caring for others through her thoughtfulness and practical support.
The difference a Roofbreaker makes
K is really enjoying her new friendships from being part of the church, and thanks God for these. K frequently talks about how she now relies on God and how He has built up her confidence and sense of peace. She is so happy in the church. Even her family have commented on how she has changed and is so much happier – she is experiencing more freedom and joy as she embraces and is embraced by the community.
Having a Roofbreaker in our church has definitely given us more focus – although this is all down to God's leading. I've had to do very little. It has been God who has brought the people along and God who has given so many of our church members open hearts to provide support wherever they can. It's amazing what God has done in our church in such a short period of time.
Find out more or to sign up as a Roofbreaker disability champion here: https://throughtheroof.org/forchurches/roofbreakers/