News Release: Finding funding for an accessible church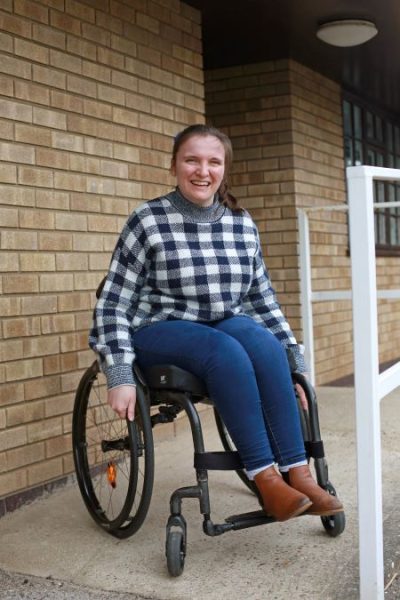 4th May 2023
Disability charity Through the Roof has created a webpage to show churches and ministries where to find funding for building work to improve disabled access. It's available now on their website and at this link: https://bit.ly/ObtainFunding
Katie Mobbs from Through the Roof shares: "I'm a Christian, and a wheelchair user. It can be challenging to access some church buildings in my wheelchair, as many have steps, heavy doors and fixed pews that limit access. Many churches want to open up their buildings more for disabled people but are not sure where to start. That's why I'm excited about our webpage about funding for access improvements! I'd love all churches to know there are funding bodies that want to help – so please do visit the webpage and tell others about it."
"My own church is really positive about disability inclusion and it is wonderful that they want to make sure everyone is able to have full accessibility and a chance to belong in church. We know that finances are tight for churches currently – so it is more important than ever to know how to get funds."
Making your church more accessible is a journey – you don't have to get everything right straight away. Just get started and remember that small things can make a big difference.
Here are some key tips from the webpage about finding funding:
There are many different funding organisations for churches such as the National Churches Trust or the Benefact Trust – many offer advice as well as sources of funding.
If your church building is used for community activities, ensure you flag that to funders – many more funds are available for community-used buildings than for church-use alone.
Building work to provide access for disabled people is zero-rated for VAT – make sure you get an appropriate certificate to give to your builder so you don't pay VAT.
Through the Roof helps churches and Christian ministries become accessible, providing ...
a FREE 2 hour Zoom Disability Awareness workshop for churches who appoint a disability champion or 'Roofbreaker'
access to our free downloadable 'Church Toolkit' and 'Removing Barriers' church accessibility audit, available to all Roofbreaker disability champions
ongoing support, monthly emails, events, Facebook and Roofbreaker Networks.
Find out how your church can be blessed by the full involvement of disabled people at: https://throughtheroof.org/forchurches/
-------- Ends -------
4th May 2023
Notes for Editors
Information about images: photos are available to accompany this release HERE.
Suggested photo captions:
Main photo:
1. Katie Mobbs is excited about Through the Roof's webpage on church accessibility funding.
Supporting photos:
2. Downing Place URC in Cambridge removed their pews for accessibility.
3. Downing Place URC in Cambridge, after the building work.
(Credit: Mike Thornton, Stillvision photography https://www.stillvision.co.uk/)
Suggested photo Alt Text (for people with visual impairments):
1. A smiling young lady (Katie Mobbs) in her wheelchair.
2. A church sanctuary, empty of pews.
3. A church sanctuary with chairs instead of pews.
About Through the Roof
Through the Roof is a Christian disability inclusion charity whose name is inspired by the Bible account in Luke 5. Our mission is to transform lives through Jesus with disabled people. We do this through three distinct but interlinked elements:
Enabling Faith: Equipping churches and Roofbreakers (local disability champions) to enable disabled people to participate and belong in Christian life.
Bringing Freedom: The 'Wheels for the World' project provides disabled people in developing countries with wheelchairs and Bibles.
Sharing Fellowship: Our Christian-focused accessible holidays, retreats and groups bring fun and friendships for all.
Visit www.throughtheroof.org or @TTRChangesLives on social media.
For more information please contact:
Janet Eardley (janet@throughtheroof.org) or
Annette Stuart (annette@throughtheroof.org)
Through the Roof
Alpha House, Alpha Place,
Garth Road,
Morden, Surrey, SM4 4TQ
Tel: 01372 749955 www.throughtheroof.org