News Release: Ramping Up Church Disability Inclusion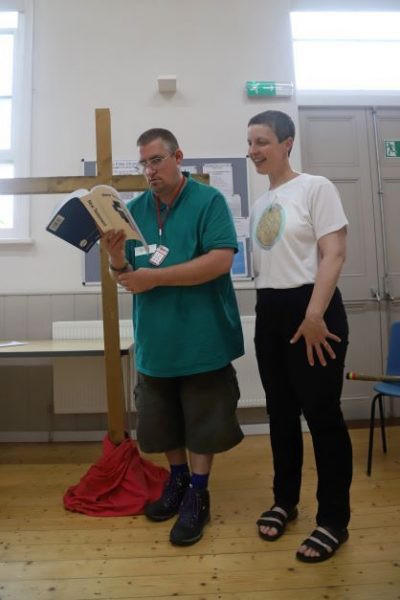 6 February 2023
With a generous grant from Benefact Trust, disability inclusion charity Through the Roof is ramping up its 'Roofbreaker' project to triple the support for disabled people in UK churches.
Only 5–10% of disabled people ever hear the gospel in their lifetime (Lausanne Committee for World Evangelization). Our Roofbreakers are local volunteer disability champions who enable disabled people to encounter God's love. Benefact Trust's funding will help Through the Roof to recruit more Roofbreaker champions to increase the number of disabled people supported from 9,000 to 30,000 within three years.
One Roofbreaker used technology to include a Deafblind lady who is partially sighted and uses British Sign Language. It made a huge difference and the lady responded by saying:
"I looked at myself as a nobody in the past. I didn't think much of myself because people didn't have much patience with me. But now … I've started finding identity which I never had before… it's helped me totally accept myself for the first time. You have given me a voice that a lot of people can understand." 
Benefact Trust funding will recruit three Regional Co-ordinators to build up local Roofbreaker networks across the four nations of the UK. Funds will also be used to provide specialist resources and support, equip disabled Christians to lead training, and organise events so churches catch the vision for disability inclusion.
Katie Mobbs, Through the Roof's Outreach Co-ordinator who is a wheelchair user, is passionate about the difference Roofbreakers are making in churches:
"I think the most important thing is giving people a place to belong within church life. We want to see disabled people welcomed and enabled as part of the church family. My passion is for disabled people themselves to be empowered; to see that the disability that they face can be turned into a mission opportunity. Thanks to Benefact Trust's support we can multiply the difference we are making."
Chloe Ewen, Grants Officer for Benefact Trust, said: "We feel privileged to support Through the Roof, as they work to make churches and faith more inclusive for disabled people. Everybody should feel empowered and have equal opportunities to thrive. To be able to support Through the Roof to triple their support for disabled people is amazing."
Benefact Trust is one of the UK's largest grant-making charities and awarded more than £23 million to churches, charities and communities in 2020. Its funds come from its ownership of the Benefact Group.
Through the Roof trains and equips churches and other organisations to be inclusive of people across the whole spectrum of disability. Their 25th anniversary video on YouTube (@TTRChangesLives) features Roofbreakers speaking powerfully of the benefits disabled people bring to church life.
Find out how your church can be blessed by the full involvement of disabled people at: https://www.throughtheroof.org/roofbreakers/ or @TTRChangesLives on social media.
***ENDS***
NOTES FOR EDITORS
Photograph information: Photos to accompany this story are available by following this link to a folder containing print quality versions of the suggested photos. .
Suggested Alt Text:
1. [TTR_Pic1_Cardboard_testimony_Heidi] An image in two halves, showing Heidi with short brown hair, holding up two 'cardboard testimony' signs: on the left, Heidi is straight-faced; her sign reads 'Believed my disability did not have a purpose'; on the right, Heidi smiles, holding her sign that reads 'God showed me I had a job to do (Disability Awareness).
2. [TTR_Pic2_BibleReading_2022-05-20 - by Doug Stuart - IMG_0067] A man standing in front of a wooden cross, holding an open Bible (New Testament) – he is concentrating on reading aloud from it; a smiling woman stands next to him, supporting and encouraging him.
Contact details
Annette Stuart, Communications Officer,
Through the Roof, Alpha House,
Alpha Place, Garth Road,
Morden, Surrey, SM4 4TQ
annette@throughtheroof.org
Tel: 01372 749955
About Through the Roof:
Through the Roof is a Christian disability inclusion charity whose name is inspired by the Bible account in Luke 5. Our mission is to transform lives through Jesus with disabled people. We do this through three distinct but interlinked elements:
Enabling Faith: Equipping churches and Roofbreakers (local disability champions) to enable disabled people to participate and belong in Christian life.
Bringing Freedom: The 'Wheels for the World' project provides disabled people in developing countries with wheelchairs and Bibles.
Sharing Fellowship: Our Christian-focused accessible holidays, retreats and groups bring fun and friendships for all.
For more information, visit www.throughtheroof.org or @TTRChangesLives on social media.
About Benefact Trust: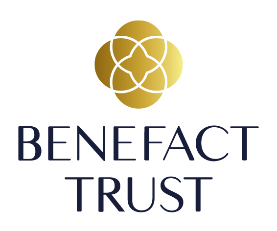 Benefact Trust is one of the UK's largest grant-making charities. The Trust's grants further its charitable objectives of promoting the Christian faith and other charitable causes. Its funds are largely derived from ownership of the Benefact Group - a specialist financial services organisation. Since its foundation in 1972, The Trust has awarded over £235m in grants – £100m in the last 5 years. Applications are welcomed from all parts of the UK and Ireland, particularly from areas of social and economic deprivation.
Benefact Trust funds projects that tackle issues such as homelessness, poverty and social exclusion. The repair, restoration and wider community use of churches and cathedrals of all denominations is also supported.
Follow Benefact Trust on Facebook and Twitter @BenefactTrust, or visit their website: https://www.benefacttrust.co.uk for more information.