News Release: The Choir of Angels Signs the Way Towards Inclusion of Deaf People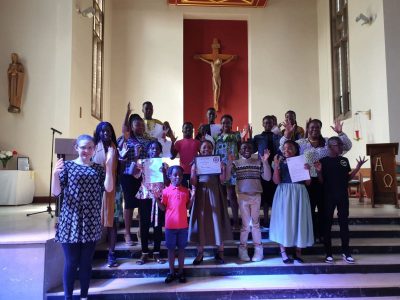 Award-winning Manchester children's choir both signs and sings to ensure more people can be included.
This festive season, a 'Choir of Angels' from Sacred Heart & St. Francis parish, Gorton, Manchester, is being celebrated for learning sign language and using drums to help include a deaf member of their church, Minna Moffatt-Feldman (pictured front left). Minna nominated the children for a 'Luke 5 Award' for disability inclusion from charity Through the Roof (throughtheroof.org). Minna said, "I am deaf. I use both British Sign Language (BSL) and English. Although I can read the lyrics, I cannot follow hymns or music during Mass … This group of children aged 7–16 have taken it upon themselves to incorporate signing into their songs so I can be included."
As a result, Minna says she has truly "felt included and become more interested in the sung words and their meanings. Before, I missed out on this part of worship and at times felt sad… It is wonderful how the choir have encouraged the whole parish to be involved and opened awareness even more – indeed the choir have been the role model."
The Choir of Angels was stunned to receive the award – Minna had kept it a surprise! The children shared some amazing wisdom about why it's important everyone is included:
Michelle, age 11 – It gives our choir a different touch and makes it better. And if any other deaf people join, they will feel even more welcome and special. I can't wait to learn more.
Deborah, age 10 – I feel happy when I sign, especially with others. I think it is really cool that we are helping individuals in our parish, as well as doing something that we love. I am really surprised at how the language has grown and how it has become a normal thing in our parish over time.
Isabella, age 7 – Singing whilst signing is good because the deaf will feel included and know what we're singing to praise God. Also, people will know a bit of sign language; that good skill will make people proud of themselves.
Joseph, age 12 – I feel happy that sign language has been introduced to our parish because it helped us learn a new way to help people with a disability (deaf people). Sign language will also help us in the future because we might find more deaf people and they might not be able to lip-read.
Samuella, age 7 – I like signing while singing because it helps people who have hearing problems know what you are saying. I also like it because it will teach people a bit of sign language.
Hope, age 17 – Thank you, God, for showing a different way of getting your Word to be spread to everybody. For truly you are for everyone, and you accept anyone to be in your ever-growing family.
Minna is proud of the choir and is grateful that they have become so aware of barriers faced by deaf people, especially those who use BSL. This whole experience has really encouraged the parish, who are now asking to learn some sign language. It's the plan now to teach them all, and the children's choir have really led the way.
Annette Stuart from Through the Roof said: "Many hearing people are nervous about how to communicate with deaf people, so if that is you, watch our Deaf Awareness video – and share it with your local church – see the webpage here: https://throughtheroof.org/2022/10/24/deaf-awareness-video/ "