Deaf awareness video
Meeting someone at church who is deaf may seem like a challenge. How could you communicate?
Our new free deaf awareness training video for churches or ministries is here to help! Revd Neil Robinson, Chaplain to the Deaf Community in Salisbury, presents this training resource in British Sign Language (BSL), with subtitles and voice-over.
Neil tells you what to do if someone arrives at your church who is deaf, including how to book BSL interpreters, and other communication tactics.
Neil's top tips if a deaf person comes to your church for the first time include:
Smile and show they are welcome! Don't panic – just try to communicate.
Ask if they can lip read – point to your mouth to show what you mean.
Don't assume all deaf people have the same communication needs – people may lip read or sign in BSL or use other forms of signing.
Always look at the deaf person – speak to them directly, not to a person accompanying them.
If a deaf person visits, never ever pray for them to hear without asking! They know their prayer needs and being deaf may be their identity.
Neil's video of advice, encouragement and practical suggestions is available at youtube.com/TTRChangesLives. There's also an inspiring video covering Neil's life story, and more from all around TTR. You can download the video directly to use in your meetings or training by following this link.
The idea for this video came from the Deaf Ministry Roofbreaker Network, and it's a great resource to share with your church or group.
The video covers the wider deaf population, including those who are hard of hearing, and also the Deaf community which uses BSL (British Sign Language) as the first or preferred language and has its own cultural identity. For more information, contact janet@throughtheroof.org.
Join us for our International Online Celebration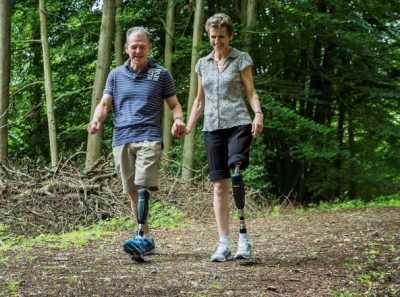 As part of our 25th anniversary celebrations, we're looking forward to meeting together for an International Online Celebration on Saturday 19th November from 10.30am to 12.
Chris and Denise Arthey are our main speakers for the event. Their motorcycle was hit head-on by a drunk driver veering into them at 80mph. Critically injured, they both lost their left legs above the knee. With support from family, friends and above all their faith, they've made a remarkable recovery. Chris now competes in para-sports and both are ambassadors in the field of prosthetic limbs. Their book, Highway 35, has been released and their website is www.chrisarthey.co.uk. Hear them share what happened and what can be learned during our online celebration.
Follow this link to register for your free place, and join us to hear messages of hope from Joni Eareckson Tada; Christian authors, Chris and Denise Arthey; and our Kenyan Partner, Pastor Davis. There'll be a great opportunity to meet friends old and new, and plenty of fun to share. Come along and get inspired -- this event is suitable for existing supporters and those wanting to find out more. We're looking forward to seeing you there!
[Photo of the Artheys holding hands and walking along a forest path is Credit: Blatchford]