Blog 4: Wheels in Kumi, Uganda 2022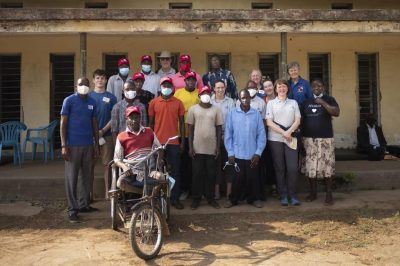 We've got a great team working hard in Kumi Uganda from the 10th to 20th Feb. We'll bring you their life-changing stories and pictures just as often as the internet connection allows. Here's Sam's report from the final day of distribution.
Day 4 began much quieter than the others, with the staff wheeling all the remaining chairs and walking aids through to the workshop, leaving the storeroom empty! As usual the clients gathered under the marquee, this time there was no overflow into the shade of the trees. Everyone prayed while Simon read from the Bible, everyone felt good knowing we would be able to help every client today.
By this point the system had become very smooth, with Lynne Williams registering clients into the waiting area where they will be called up by Modesta, one of our translators, and other staff when ready to be seen by the therapists. The extra space we had gained by having only clients previously chosen by the in-country team was well utilised, allowing for a much clearer separation between clients who needed to be registered and those waiting to be seen by the therapists. This had been a challenge in previous days due to the large numbers of people attending.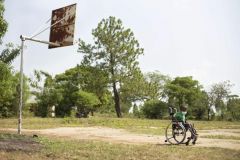 Jeremiah Otim is 6 years old and suffers from cerebral palsy, he was unable to crawl or feed himself. Sadly, there were no child's wheelchairs remaining, but this posed no problem to our amazing techies! Cushioning was fashioned into a full-size wheelchair to fit Jeremiah and even offer support to his head, a problem he has been facing his whole life.
Betty Aanyu was carried in by her family, she claimed to be 135 years old, although I'm not so sure I believe her! Betty has struggled as she cannot mobilise herself without her family, she wishes to travel to church and into hospital for treatment. Her wheelchair will give her the freedom to do so and allow her family the time to work as Betty will not be as dependant on them.
The main issue we faced today was with the availability of suitable wheelchairs. We had so few left to distribute that we no longer had the luxury of choosing the ideal wheelchair for each client. This was particularly apparent with the children who need smaller chairs. So we had to carefully match the last few people to the remaining chairs, but as so often happens, we felt God's hand was upon this as each person remaining got a chair that was best for them, even down to the last person and the very last chair.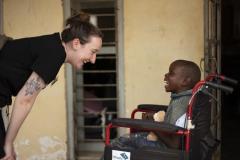 At the end of the day, we had distributed every single wheelchair, knowing that nothing is wasted is the African way! It was sad to know that we will not be returning tomorrow but, knowing just how many people we had helped, we could leave with smiles on our faces.