'Disabled People Judged as Not Worth Listening To'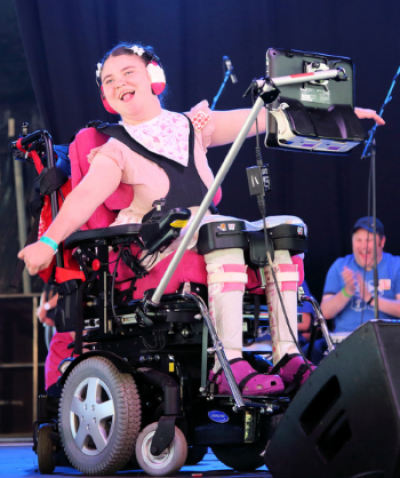 Becky, a 19-year-old with severe disabilities received a standing ovation for her preach to thousands of people at Greenbelt Festival. Yet often her experience is not so positive. Becky says, "Too often disabled people, particularly those with severe disabilities, are judged as not having an opinion that is worth listening to."
Becky was part of a conversation between three young adults which is available to view on this video hosted by Christian disability charity Through the Roof: https://www.youtube.com/watch?v=Or7CZjRIsfU&t=39s. They explored what the Bible says about the inclusion of disabled people and why they still find that this often doesn't happen.
Fiona, Hannah and Becky are three young adults who have such a lot to give and a powerful message to share. All three experience disability and all know the challenges of not feeling included in Christian life. Becky may not be able to speak but, by using eye movements to activate eye-gaze technology she was able to preach at Greenbelt – to great effect.
Hannah urges churches to follow Christ's calling. She says, "That's what I want to see in churches. It's for them to be what the Bible is telling us to be – to be counter-cultural and including disabled people and paving the way for the rest of society to see that this is a good thing to do." A powerful message indeed.
Those who have seen the video certainly believe that disabled people are worth listening to, with one viewer commenting: "The interview has certainly challenged me to think about my understanding of the challenges faced by those with additional needs".
Through the Roof makes it possible for churches and ministries to be able to respond to this message - providing free support and resources through its Roofbreaker project to enable Christian disability inclusion. As Becky says, "I would love to see a Roofbreaking champion in every church." Follow this link to find out how we can support and resource your church.