Wheels in Kenya 2021 - Blog 4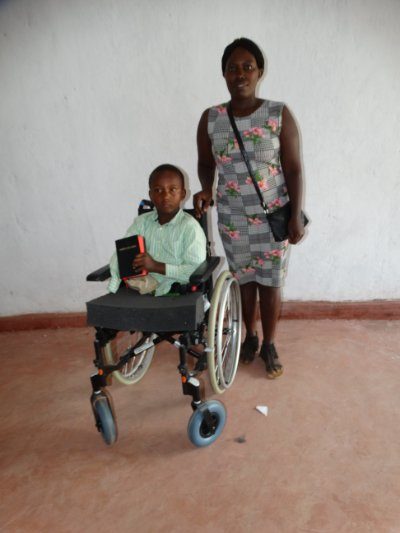 Reporting from our supported wheelchair distribution in Elburgon, Kenya. A local team fit wheelchairs and other mobility aids for disabled people from August to early September, ably assisted remotely by a UK team of therapists and specialists. We'll bring you reports from the in-country Kenyan team as often as communications allow. The distribution finished on the 5th September, with many people and families receiving life-changing mobility aids. Thank you for your support! We may have a few other posts over the next couple of weeks, catching up with the details from all the days of the distribution.
DAY 6 : 27TH AUGUST 2021
The breaking of the day with promising rays of the beautiful sunrise and sweet melodies of birds of the air penetrating through the windows of our Supported Distribution centre seemingly to welcome a day of great blessings to many disabled people, and more so to a young boy who since birth had not ever seen nor sat on a wheelchair. This actually happened right here where the UK team and the local team were motivated by the desire to see these smart faces empowered and transformed with new enablement and elements of hopeful brilliant future of the beneficiaries and their parents/guardians.
Gerald, a seven year old boy, was born without lower limbs and one hand. He is a jovial boy, lovely company, and a story-teller. He is energetic and can do some activities with his one hand like writing. He likes schooling very much.
Immediately when his mother arrived at the distribution hall and found her son's name among those to benefit with a wheelchair, she could not control her tears of joy. Everyone in the hall was touched by her actions. She talked continuously giving thanks to God and the team which was supporting the distribution.
Immediately the boy sat on the wheel chair, she was overexcited. Similar joy was expressed by the boy who started wheeling himself around the distribution hall. This was the best day for the child. Gerald said that he saw and sat on a wheelchair one time he went to seek medical attention in the nearby hospital. He is a courageous and daring boy that he even talked with the doctor requesting him to allow him to go home with the wheelchair. The doctor saw the need for the child and he promised him that he will alert the mother in case of any other distribution will be made at Elburgon. Upon the doctor hearing the good news of this distribution, he alerted the caregiver and now the boy has his chair.
The boy was very grateful to the doctor, to the bishop and UK team at large. He says his life will change drastically. He will be in a position to move around and even go to school. Thank you for all your support!
Follow this link to read the first post from the distribution