Wheels in Kenya 2021 - Blog 2
Reporting from our supported wheelchair distribution in Elburgon, Kenya. A local team will be fitting people with wheelchairs for the next 6 to 7 weeks (from mid-August through to September), ably assisted remotely by a UK team of therapists and specialists. Technical problems are making it hard to get blog posts over regularly, but we'll bring you reports from the in-country Kenyan team as often as communications allow. Please keep praying for the team, both in Kenya and the UK. Thank you for your support!
Day 2: 9th AUGUST, 2021
The Kenyan team assembled as usual but a few arrived late due to heavy rains in the morning. The clients started arriving one hour late due to rains. All village pathways are earthen and with no maintained roads. Some terrains are difficult to go through when it rains due to mud which make movement very challenging. As you may be aware, some of the clients are carried on guardian's backs on the heavy one on plastic chairs, while those coming from deep in the rural areas may be carried on homemade mats from their houses to the main feeder roads.
When the distribution started, the communication with our UK team was interrupted by noise from the roof rains, the electricity went off and thus the poor visibility of the UK team. To improve communication, both pictures and assessment forms were frequently sent to our UK teams for easy understanding of the nature of the client's disability condition. The network signal was constant with help of powerful 4G gadgets which sustain the network 85 % during the day. Besides all the day's challenges, the UK team and Kenyan team worked very hard. Gradually communication between the teams improved and the afternoon session opened better communication. A few interesting stories were of the clients were recorded, including the story of Mitshel, a 12 year old girl.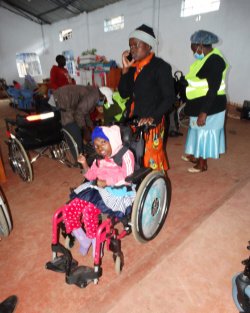 Mitshel was born with disability due to cerebral palsy. She cannot stand, nor walk or support herself well. Throughout her life she wholly depends on her mother.
The mother could not control her tears of joy after receiving the wheelchair. She says that she has lived wishing to have a wheelchair but due to financial challenges she could not afford one and today her dream comes true. Her touching words were that "What an amazing wonder that I have been given a wheelchair for free by someone who is not even a family member or even a government personnel surely God makes a way where seem to be no way"
The mother says that, the life of her daughter will change drastically since she will be able to go with her everywhere very easily e.g. during their fellowship, going to hospital. She adds that she has been leaving her at bed and locking the house; a situation that she was feeling was very unsafe.
Her prayer is that God will increase every person involved in this noble job to be uplifted higher and higher beyond their imagination.
Follow this link to read the next post from the distribution
Follow this link to read the first post from the distribution