'Keeping Wheels Turning': The Winter 2020 Vital Link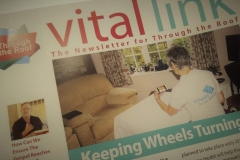 The Winter 2020 Vital Link is now available. Find out all about our new supported distributions, the Luke 5 award, the recent growth of our Roofbreaker programme, and much more about how your support is helping change lives in the UK and overseas.
You can download a PDF of the Vital Link below, or please contact us for a print, large print, braille, or CD audio copy.