Values and benefits of joining the map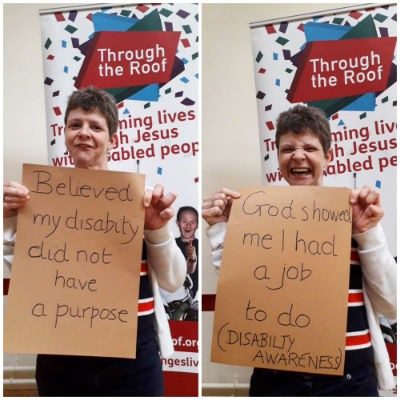 The statement of values for Roofbreakers (disability champions) at churches/ministries on the map:
We believe that we are all made in God's image (Genesis 1:27) and are equally valuable.
We are working towards our church/ministry being committed to disability inclusion – including hidden disabilities. We all have unique gifts and talents to bring and this includes disabled people.
1 in 5 people in the UK are disabled. We believe that our church/ministry should reflect this. Without the involvement of disabled people, our church/ministry is incomplete.
As Roofbreakers / disability contacts, we are available to speak with about concerns relating to disability. We will listen and work with disabled people to find ways around any barriers to church or Christian life.
We realise we won't always get everything right. We are continually learning and genuinely want to hear from people about what would help for full inclusion.
The aims of the map:
To show a map of the churches/ministries across the UK that have a Roofbreaker / disability contact who is positive about disability inclusion.
For churches/ministries to be able to give a positive message to disabled people in their local community: that they are working to improve disability inclusion and want to fully welcome disabled people.
To celebrate working together as part of a bigger picture to reach and include disabled people, and to encourage other churches/ministries to join us in the journey of disability inclusion.
We want to support you by…
Providing a FREE 2 hour Disability Awareness workshop (delivered on zoom at present) for churches/ministries who have a Roofbreaker who is 'Positive About Disability Inclusion'.
Offering access to our free downloadable 'Church Toolkit' covering the various areas of church life and providing unique guidance to equip your church/ministry to welcome and include disabled people.

Allowing free download

of

our 'Removing Barriers' church access audit - enabling

you to think through your whole church/ministry's approach to disability inclusion.

Helping everyone to discover the benefits of having a 'Roofbreaker' in their church/ministry. The Roofbreaker (or Roofbreaker team) will receive ongoing support from Through the Roof through monthly emails, events, area Roofbreaker Networks and a Roofbreakers' Facebook group.
Giving ongoing support to answer any questions regarding disabled access and to discuss any concerns, as well as sharing encouragement and prayer points.
Register at this link for your church or ministry to be included on the map.