Margaret Anne Bale -- Ros' Blog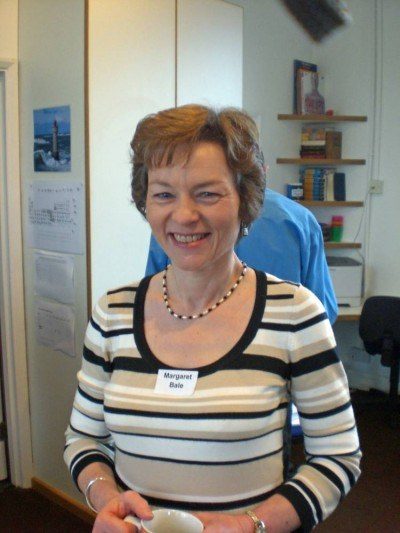 Margaret Anne Bale
16th October 1959 – 18th February 2020
This month there can only be one topic for our regular blog, and that is a tribute to our much loved and sadly missed colleague, Margaret Bale. Margaret retired in September after seventeen years of working for Through the Roof, in order to devote her remaining years to caring for her elderly parents and her young grandson and to spend time with her husband and children. Sadly this was not to be; in October she was diagnosed with an aggressive cancer and on February 18th she passed into the presence of the Lord whom she had come to love so much.
In the years during which Margaret worked for Through the Roof, her faith blossomed into a deep relationship with God. Always a kind and giving person, it is a testament to her love that so many of the disabled people whom she either organised holidays for or supported on holiday have contacted us absolutely devastated by the news of her illness and sudden home call.
Every event which Margaret organised for Through the Roof, whether an afternoon's team meeting, a day conference or a week's holiday, was executed with the same flawless efficiency. Every i was dotted and every t crossed, and almost nothing ever went awry, apart, perhaps, from the occasion which Jenny reminded us of when she spoke at the funeral, when Margaret meticulously made all the necessary arrangements for a picnic on one of the holidays, and once everyone had reached the picnic spot and she had ensured that every detail had been taken care of, it became apparent that she had forgotten to bring the picnic!
This, however, was a very rare example. The first event Margaret had to organise when she joined Through the Roof was a tour of the UK by Joni Eareckson Tada – quite an undertaking for someone who was new in the role, but Margaret took it all in her stride. After this, she organised and led the Dalesdown holiday every year for families with autistic children, and skilfully ensured that everyone in each family – the parents, the autistic child, the siblings – got the maximum rest, fun and benefit from the holiday.
She also organised the annual activity holiday, held first at Hinwick Hall in Northamptonshire and latterly at Treloar College in Hampshire. Once again, Margaret's planning for every minute of the week was meticulous, and she had a knack for finding exciting, fun-filled, accessible activities which make this holiday the highlight of the year for so many of the guests.
Besides her efficiency and skill, Margaret was a colleague who exuded friendliness and would always go the extra mile. It was easy to confide in her and she would listen patiently and lovingly. In the office, her gentle presence was a quiet beacon of Christlikeness, as she served so many of us and helped us all to carry out our roles with greater efficiency because of her support.
At her funeral, Jenny read the following excerpt from "The Boy, the Mole, the Fox and the Horse" by Charlie Mackesy:
Q: What do we do when our hearts hurt?
A: We wrap them with friendship, shared tears and time, till they wake hopeful and happy again.
Here at Through the Roof we will support each other through the great sadness of losing someone who had become so dear to us. We rejoice that she is free from suffering and enjoying face-to-face communion with the Lord Jesus, and we rest in the confident hope that we will one day be reunited with her in His presence. We would ask you to keep her family in your prayers in the devastating suddenness of their great loss.
You can follow this link to read a full obituary of Margaret, prepared by her family.