Thank you Flowstore!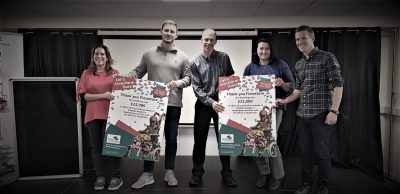 Tim Wood, Wheels For The World CEO, visited our supporters at Flowstore to speak to the Charity Committee and pass on his thanks for their corporate donation last year and their continued partnership in our work.
Each year Flowstore set aside some money to give to their nominated charities. This past year they have managed to give a fantastic £25k to Wheels For The World! In the past they have also partnered with the work by building storage racks, site visits, and with two team members even giving up time to support the work on the ground in Africa. This amazing gift will help us to continue bringing life-changing wheelchairs, physiotherapy, and other vital mobility aids to people who would otherwise have very little chance of getting one.
Byron at Flowstore built us a fantastic set of storage racks for our Aldershot wheelchair warehouse. "The crutch storage racks designed by Flowstore have proved very helpful. They enable our volunteers to instantly see which sizes we have and helps to utilise our limited space" said Shaun, International Missions Manager
As a sign of our gratitude we've presented Flowstore with two plaques to celebrate their ongoing support--thank you to everyone there who's given so generously of their time, funds and skills.