Churches Inc in Ukraine 2019 -- Day 1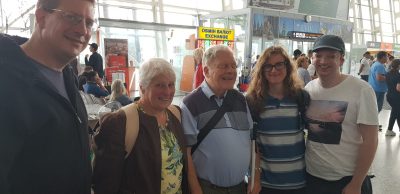 The Through the Roof Churches Inc team have arrived in Ternopil, Ukraine, following a smooth journey and will be working there until the 13th August. Please keep praying for the team, as they bring a message of encouragement and inclusion to the area. We'll bring you updates on their work as often as we can. Thank you for all your support!
Day 1 -- Weds 7th Aug
Today the team visited places that Pastor Igor and Pastor Volodymyr regularly visit and invite people to church. Pastor Igor shared a testimony with us of a gentleman named Stephen. He had muscular dystrophy and was close to suicide. He came to know the Lord Jesus through church visits. He said that he was now glad of his condition as without it he would not have come to God. He was so keen to share this hope with others that he hand-wrote letters to around 500 people with disabilites, even though it caused pain to his hands. This stirred Pastor Igor to reach out to people with disabilities.
Pastor Igor also shared with us how he visited one man at home who had a stroke. Igor kept visiting him but with little response. 3 months later he had a phone call saying he wanted to meet and gave his life to the Lord. 2 weeks later the gentleman died. We met his daughter, Tatyana, who was blind. She also came to know the Lord through witnessing the great change in her father.
Pastor Igor runs a camp every summer for adults with disabilities where he shares the gospel with them and now several people come to his church.
The church members are willing to drive great distances to pick up someone who could never get to church by themselves. We met a gentleman in a wheelchair who needs to be physically picked up and carried as the pavements and roads are not wheelchair friendly. He gets picked up by the church bus and said 'I cannot wait until Sunday'. He met the pastor at a disability event and had no experience of church before this. He became a Christian. He was very thankful that even though he is in a wheelchair, he can communicate his needs whereas others may not be able to.
We visited a state run hospice for 30 people, mainly people with cancer or had a stroke. This is the only place of its kind in Ternopil region (an area with a population of 1.2 million). We had opportunities to pray with people that they would know God whatever their circumstances.
We visited an elderly people's home. One lady Olga was so excited, she just started sharing her testimony. Olga shared how she had depression and was bed bound for 8 months. Now she is walking and free of her depression and praises God for it. She was so thankful for all the help she receives. The home was a run down building and many people sharing one room. We thank God for Olga and may her testimony speak to others there.
In Ukraine, parents who have a disabled child are often encouraged by medical professionals to 'give them up' to an orphanage so the parents can still have a 'full life'. For families who decide to look after their child, there is very little support available to them. One christian lady who is trying to help has started a centre where families can bring their children with Downs syndrome and Autism for a few hours of input to help their development and encourage the parents not to give up. They are supported by churches and limited government support, but today we saw them trying to fundraise just to be able to keep the children warm through the harsh winters in their building. We saw a lot of love and community created for the families who face serious challenges.
We have had a very encouraging day and thank God for meeting His people in Ukraine.