Wheelsblog -- Uganda 2019, Day 8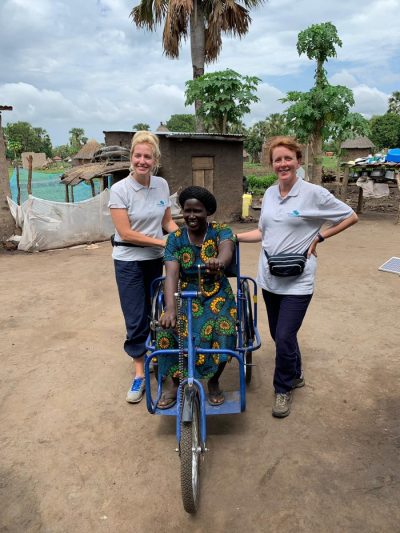 Thursday 13 June
Well, our distribution is over and after an early night in the accommodation in Yumbe, we left at 06.00 in the dark, with rain falling making the roads very slippery, to head for the national park at Murchison Falls. At 09:30 we stopped and picked up breakfast in Arua before continuing the journey on a tarmac road for the next two hours until we reached Red Chilli Rest Camp.
What a brilliant and amazing afternoon we have had in the national park. We took a three and a half hour boat ride to the falls seeing hippo, crocodiles, elephants and giraffe on the way as well as baboons, warthogs and antelope. We were intending to do a safari drive this evening but time ran out so we returned to Camp and sat outside watching the sun go down before warthogs visited around our Banda huts and a huge hippo visited after supper.
Each team member will take away a different perspective of this trip, knowing that they have made a significant difference to many lives. The Nile river at the Murchison Falls tumbles through a very narrow gorge and then fans out on its journey through many countries. The need for mobility aids in Bidi Bidi Camp alone is vast but we have made a start to serve the 19,000 disabled people in the camp of 270,000 refugees.
Tomorrow is another early 06.00 start for a 6 hour journey to Entebbe for our flight home.
Once again, thank you for your interest and prayers for this trip. We feel it has been worthwhile, if not what we planned, as we have been able to mentor the local folks here so that they can continue the work and maintain the wheelchairs we have given.