Wheelsblog -- Uganda 2019, Day 6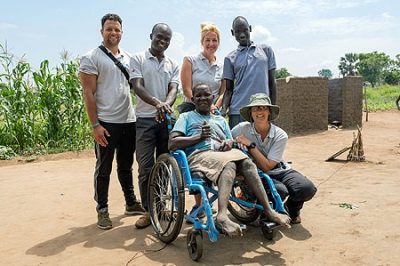 The Wheels for the World team are in Moyo, Uganda from the 5th to the 15th June. We'll be bringing you their stories and news as often as the internet connection allows. Here's the sixth report, as the team travels out to work with people all around the area, meeting several people who they wouldn't have been able to help otherwise. Please keep praying for the team--they're unloading the container this morning, and will have a very full day of work!
Tuesday 11 June
Today has been another day out in the camps, but the container is on its way! Today we split into three teams. One team found a very sick lady who was not able to sit in her wheelchair as she was so ill. If we had not been looking for her she would not have got help through our partners. Another God coincidence or part of his plan?
Jill and Rob walked 5.6 km in hot sunshine through maize, avoiding goats, ducks and chickens and all sorts of obstacles. At one point Jill sat down on a log to take a drink and found she was on a pigsty!
They passed the local hospital, so being a nurse and a therapist, their curiosity got the better of them. So they washed their hands, had the soles of their feet sprayed, and went to reception. They were welcomed by the Clinical Officer and given a tour.
They found there was 1 doctor for 7 villages and 12,000 villagers. How we take the NHS for granted. Lots of epilepsy, maleria, depression and PTSD. Jill was able to give out more puppets and then brought out pots of bubbles. Initially kids were very shy but finished up laughing and popping bubbles as the group of kids got bigger and bigger.
Dave was paired with Lynne and Pastor Shadrack. We first saw a girl who had cerebral palsy and we managed to adapt her wheelchair slightly to improve her seating position and provide her mother with advice on sleep positioning to stop her scoliosis.
Then we saw an old man who had had a stroke. He was able to stand and walk a little. The tyres on his wheelchair needed pumping up and we adjusted the length of his walking aid to suit his height. Pastor Shadrack gave him a Bible which delighted him filling his face with a smile. We really value seeing smiles on people's faces as, in this environment, life is really tough.
Unfortunately the plans have changed yet again, which no longer surprises us! Instead of unloading the container ready for the trip to Yumbe tonight, we will be doing that at 06:00 tomorrow and then off to Bidi Bidi for our first and last wheelchair distribution as they have never had wheelchairs there.
Thank you all for your prayers and thoughts over theses few difficult days. It was not what we planned, but we have seen and made a significant impact to over 50 people so far.