Blind Hymn Writer Lights the Way (Ros' Blog)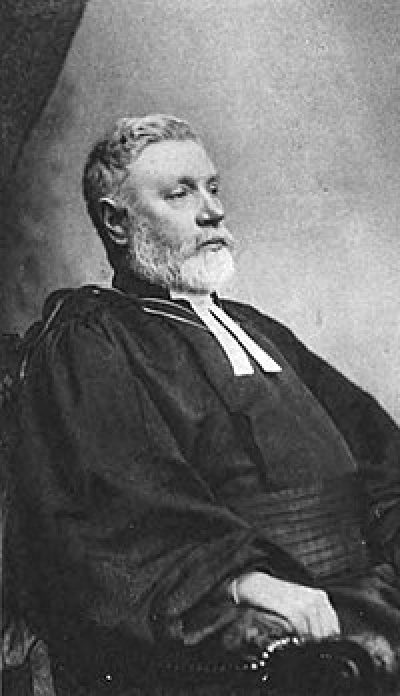 Throughout my life there have been some hymns that have made a profound impression on me, and some hymn writers whose stories have touched and inspired me. And in researching these hymn writers, I have found that a number of them are disabled, and have left a wonderful legacy in the words they have written – people like Frances Ridley Havergal, Fanny Crosby, William Cowper, Anne Steele and George Matheson. George Matheson is a great example of how it is not a physical condition that disables, but the attitudes of those around us. And he is also a great example of how, no matter what life throws at us, we can always find all we need in Jesus.
George Matheson was born in Glasgow in 1842, the eldest of eight siblings. He was an exceptionally bright student, and when he left school he gained a place at Glasgow University, where he studied Classics, Philosophy and Logic. He was just nineteen years old when he graduated with first class honours, but at the same time he was rapidly losing his sight. He had always had poor vision, and in school he had worn strong glasses and had always sat near a window to benefit from the daylight. But in his final year at university he lost the remainder of his sight and from then on he was only able to make out faint shadows, and was functionally blind.
Matheson did not allow any of this to hold him back from his chosen career path of becoming a church minister. In fact, it is said that many of his congregation did not even know that he was blind. He would stand up and "read" the passage of Scripture, presumably from memory, so that most of those who heard had no idea that he was not reading from the page. He continued to study and write theological works, dictating them to his sister who transcribed them for him. He remained very close to this particular sister and there was always a deep bond between them.
While at Glasgow University, George Matheson had met and fallen in love with a young lady whom he had asked to be his wife. She accepted and they became engaged. But when he told her of his increasing blindness, she responded, "I do not wish to be the wife of a blind man," and broke off their engagement. He lived with the pain of that rejection for the rest of his life, and yet did not allow it to deter him from serving God as a faithful pastor and minister of the Gospel.
George Matheson's most famous hymn was written in the space of five minutes one evening when he was forty years old. He has chosen not to disclose exactly what was passing through his mind when he picked up his pen to write it, saying only that "Something happened to me, which was known only to myself, and which caused me the most severe mental suffering." But the occasion was the night of his sister's wedding, and it's likely that the event, necessarily taking his sister away from him after many years of being so close, brought back the memory of his own rejection by his fiancée. Certainly he had never married and had never fully got over being rejected for his sight loss.
He wrote later that, unlike all his other hymns and verses, he did not have to work at the rhythm or metre of this hymn, but that it came to him in the space of five minutes; he scribbled it down and never edited or retouched it. It came to him, he said, "like a dayspring from on high".
During his lifetime, George Matheson was honoured in several different ways. He was made an honorary Doctor of Divinity from Edinburgh University, became a Fellow of the Royal Society of Edinburgh, and was invited by Queen Victoria to preach in front of her at Balmoral.
He never did marry, ending his life a bachelor in 1906 at the age of sixty-four. Many of his writings still exist and are available to read in books and on the Internet. But the piece of writing for which he will always be remembered is that one hymn in which he expresses so profoundly how the love of Jesus, which never let him go, had become the mainstay of his life. And in writing it, he brought encouragement and hope to countless others down the decades – a hundred and thirty-one years later we still sing it in our churches, and in polls conducted by Songs of Praise it remains one of the nation's favourite hymns.
O Love that wilt not let me go,
I rest my weary soul in thee;
I give thee back the life I owe,
That in thine ocean depths its flow
May richer, fuller be.

O light that followest all my way,
I yield my flickering torch to thee;
My heart restores its borrowed ray,
That in thy sunshine's blaze its day
May brighter, fairer be.

O Joy that seekest me through pain,
I cannot close my heart to thee;
I trace the rainbow through the rain,
And feel the promise is not vain,
That morn shall tearless be.

O Cross that liftest up my head,
I dare not ask to fly from thee;
I lay in dust life's glory dead,
And from the ground there blossoms red
Life that shall endless be.