Wheelsblog -- Uganda 2019, Day 3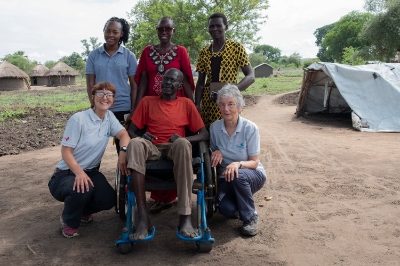 The Wheels for the World team are in Moyo, Uganda from the 5th to the 15th June. We'll be bringing you their stories and news as often as the internet connection allows. Here's the third report, covering the work they've started doing while waiting for the container. Please keep praying for the team!
Through the Roof and Hope Health Action have tried so hard to speed up the container, but now it will be Monday at the earliest. We are planning 1 day distribution on Tuesday here, then 1 in Bidi Bidi camp a few hours away on Wednesday. Then we have to begin the journey home Thursday.
This way we can mentor the local HHA team who are trained to fit chairs and then they can continue the distributions when the team go.
We had another joyful day of home visits. The audio bibles were a particular hit - these are supplied by some donors from my church in Chessington, and others including Motcombe village. and have the bible read by a native speaker, and are solar powered!
So we are doing well. Disappointed not to be fitting chairs as planned, but what a great opportunity to take time to see people in their homes and follow up clients from previous distributions!
Keep praying.
Thank you all.