Wheelsblog -- Uganda 2019, Day 2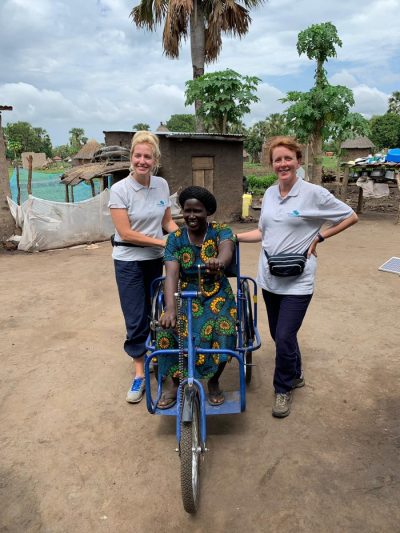 The Wheels for the World team are in Moyo, Uganda from the 5th to the 15th June. We'll be bringing you their stories and news as often as the internet connection allows. Here's the second report, covering the work they've started doing while waiting for the container. Please keep praying for the team!
7 June
Today we split into 3 teams to make use of the unexpected time without the container and equipment. The pastors and Michael, the Children's worker, spent time with local disabled people and pastors training them on the Biblically view on disability. This begun with a talk on the Bible principles on disability followed by the dangers of the prosperity gospel and the joy of the true gospel. The group then split into two to look at examples of people who were disabled in the Bible. We then ended with a drama on the story of Mephibosheth on the importance of a two way relationship when helping people. The group listened and responded very positively to the training.
A small team attended Ibakwe Hills Nursery and Primary School where Michael took an assembly for 1638 pupils with his puppet Davis! When he was sharing the message of Christ, we were shocked to hear that nearly every child had seen a dead body, even the youngest in the school. It was fantastic how positively the children responded to our visit and humbling to hear how dedicated the 19 teachers were who work voluntarily to prepare the children for their Primary School National exams.
This team completed 3 home visits including Keiden Josephine, a lady who had suffered from leprosy and crawled out of her hut to welcome us. She still had the old unusable wheelchair her son had pushed her for 2 days to cross the border and reach the camp. She already had a wheelchair provided by a different charity and was using this successfully to access the church and local community. This extraordinary lady managed to cook and get in and out of bed unaided and her final comment was "I cannot believe that you took the time to come and speak to me". It was great to affirm just how valued she is in God's sight.
Home visits were the focus of the group. We met several people who had wheelchairs already but who were struggling to use them because of needing repair or problems sitting comfortably. Meeting these people highlighted how much a wheelchair can change their lives. The First Lady we met said that before receiving her wheelchair she never left the small compound of her home. Now with a chair she can go and collect six cans of water, attend church and school and was involved in a work skill building program for disabled people. She proudly talked about successfully managing to work on a project to construct a building for a training centre and appealed to us to raise awareness of their efforts to equip the centre.
We also met an elderly man who was crawling on the floor as he planted crops. He had a wheelchair but it needed some adjustments to make it comfortable for him to use and to propel more easily. Another man with a tricycle was given some help to make his chair comfortable so that he was not in discomfort as he travelled 12 kilometres to work and back. Simple work on his chair made a huge difference to this man who was very grateful for the help he was given.
So many people in great need from such varied backgrounds. We heard how people who were previously farmers were able to adjust more easily to sustaining themselves on the camp whilst others from the cities working in jobs such as bankers, lawyers and such like professions struggled to learn and cope on the camp.